Sirius XM on fire. But what if Stern leaves?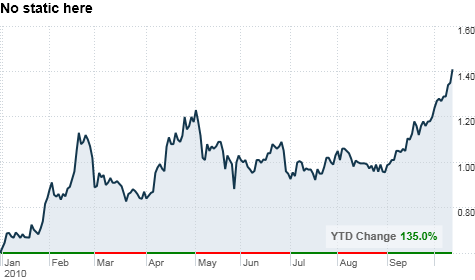 NEW YORK (CNNMoney.com) -- Don't look now but satellite radio company Sirius XM has been one of the hottest stocks this year.
Shares of Sirius XM are up about 135% this year and hit a new 52-week high Wednesday morning. Of course, shares still only trade for $1.40 -- a far cry from their all-time high of nearly $70 back in March 2000.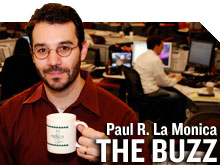 But Sirius XM does have some positive momentum on its side. The company announced Wednesday that it added more than 334,000 net subscribers in the third quarter, a much higher gain than a year ago.
Sirius XM now has 19.9 million subscribers and expects to end this year with approximately 20.1 million subscribers.
The recovery in auto sales this year has been a big plus for the company as 62% of its subscribers still come from deals with major car companies like GM, Ford (F, Fortune 500), Honda (HMC) and Toyota (TMC) to have radios pre-installed.
Still, there's one big question out there that will affect investors and subscribers at Sirius XM (SIRI). What's Howard Stern's next move? The shock jock signed a 5-year, $500 million contract with Sirius XM in December 2005. That contract is due to run out at the end of this year.
Stern has hinted that he might leave while Sirius XM CEO Mel Karmazin has publicly expressed confidence in the company's ability to strike a new deal with the self-proclaimed King of All Media.
The negotiations are likely to come to a head soon. James Goss, an analyst with Barrington Research in Chicago, points out that Sirius XM will report its full third-quarter results in early November. Goss argues it would be ideal for Karmazin and Stern to have something wrapped up by then.
Martin Pyykkonen, an analyst with Wedge Partners in Denver, estimates that as many as 2 million customers could cancel their subscriptions if Stern left.
But at the same time, Sirius XM has won praise from Wall Street over the past year and a half for cutting costs. And many investors have felt that Sirius XM overspent on talent such as Stern. So if Sirius XM signed him to another expensive multi-year deal, that may be considered a setback.
Goss said he understands why some feel Stern may be overpaid. But he thinks that he might be the one on-air presence at Sirius XM that is worth his contract.
"If Stern were to leave, some investors would say, 'Good. We're saving some money,' but others would say 'We just lost a big draw.' But I think it would be a negative if he didn't stay," Goss said. "There may be other areas, like sports programming, where Sirius has better opportunities to cut costs."
Losing Stern could be a big blow to the company and its stock since the easy money may have already been made in the shares.
Sirius has been a classic turnaround story. The big run this year is largely a reflection that it's no longer on the brink of bankruptcy thanks to a recovery in the economy and key investment from John Malone's Liberty Media (LCAPA, Fortune 500) last year.
David Bank, an analyst with RBC Capital Markets, points out that with or without Stern, Sirius XM looks like an expensive stock.
He said that when you factor in the investment from Malone, shares trade at a multiple in the high-teens based on 2010 estimates for earnings before interest, depreciation and amortization -- a preferred metric in the broadcasting business. That's fairly expensive for a media company.
So in order for the company's stock to keep climbing, it's going to have to prove to Wall Street that it can both continue to gain subscribers at a healthy clip but not do so at the expense of eventual earnings down the road. By the way, Sirius is finally expected to post its first full-year net profit this year -- albeit a small one.
Pyykkonen said he expects Stern and Sirius XM to come to some sort of compromise where he'd take a less lucrative contract in order to work fewer hours. He called that a win-win for Stern and Sirius XM and doubted that Stern's threat to take his show elsewhere is uh, a serious one.
Having left free terrestrial radio (with all its FCC restrictions) in 2005, it would be a major shock if Stern went back to a company like his former employer CBS (CBS, Fortune 500) or Clear Channel. Some have talked about him landing at Pandora or other online radio services. But could a start-up afford him?
"I don't know if Stern has any better alternatives. Where else would he go to have the freedom to say whatever he wants and still make a big chunk of money?" Pyykkonen said.
- The opinions expressed in this commentary are solely those of Paul R. La Monica. Other than Time Warner, the parent of CNNMoney.com, and Abbott Laboratories, La Monica does not own positions in any individual stocks.