Google reveals surprisingly huge mobile and display ad sales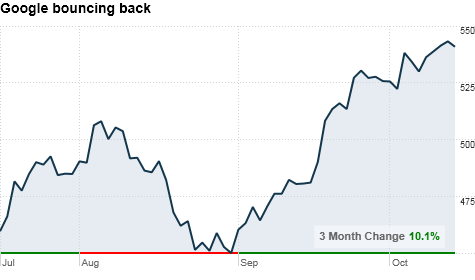 NEW YORK (CNNMoney.com) -- Google's profit soared in the third quarter, defying skeptical investors and analysts who feared that the search giant would never find a a significant new revenue stream besides search advertisements.
The company shed rare light on its non-core businesses like YouTube, display advertising and mobile, demonstrating how it is building new, multi-billion dollar businesses.
Shares of Google (GOOG, Fortune 500), which have fallen 13% this year, rose 9% in after-hours trading on Thursday.
Jonathan Rosenberg, who oversees Google's entire product portfolio, told analysts on a conference call that the company's display advertising unit is now a $2.5 billion business, on an annualized basis. Mobile advertising revenue -- driven by adoption of Google's open-source Android smartphone operating system -- is at $1 billion a year, extropolating from the most recent quarter's results. (See correction below.)
Rosenberg also said that YouTube is making money on its more than 2 billion video views per week -- though he did not say how much money Google makes on video ads.
Google has in the past been tight-lipped about the financial details of its non-search businesses, leading some analysts to speculate that those product lines were insignificant to the company's overall revenue.
Rosenberg conceded that analysts need to use "Jedi investigation skills to find out what's going on" in non-core businesses, but he assured them that "we do in fact care about money."
Those emerging businesses helped Google far exceed Wall Street's financial estimates for the quarter.
The world's online search leader said its third-quarter net income rose to $2.2 billion, or $6.72 per share, up 32% from a year earlier.
Results included one-time charges totaling 92 cents per share. Without the charge, Google said it earned $7.64 per share. Analysts polled by Thomson Reuters, who typically exclude one-time items from their estimates, forecasted earnings of $6.69 per share.
Sales for the Mountain View, Calif., company rose 23% to $7.3 billion. Excluding advertising sales that Google shares with partners, a figure also known as "traffic acquisition costs," the company reported revenue of $5.5 billion, which topped analysts' forecasts of $5.3 billion.
Though its new businesses are growing, search remains the most crucial component of Google's financial results. An increase in both the number of clicks on advertisements on Google's sites and the amount advertisers paid for those clicks helped drive the past quarter's gains.
"Search is the most monetizable business on the Web," Rosenberg said. "The Internet continues to explode ... and search is more important that ever."
Search advertising -- the field Google dominates -- is by far the most prevalent advertising form on the Web. But display advertising generates much more revenue per click. Despite Google's growth in that space, that field is still dominated by rivals AOL (AOL) and Yahoo (YHOO, Fortune 500), around which merger talks are swirling.
But Google has made tremendous headway in mobile. Its Android operating system will command 17.7% of the global mobile device market by year's end, according to a Gartner forecast, making it the second best-selling smartphone operating system, behind Nokia's (NOK) Symbian OS and ahead of Apple's (AAPL, Fortune 500) iOS. That's stunning, considering it entered the market just two years ago.
"Android is much bigger than I could ever have hoped for," Eric Schmidt, Google's CEO, said on the conference call. "Android can become a hugely profitable business for us. Search on mobile will eventually exceed that of PCs ... so, eventually, mobile will be a very, very strong revenue stream in comparison to PCs."
Google is also growing through acquisitions, buying up social networking companies that the company is using to create a more social experience throughout its various Web applications and properties.
As a result, the company expanded its workforce by a brisk 7% in the quarter, adding 1,526 employees to its ranks.
Correction: An earlier version of this story incorrectly stated that Google's Android revenue was $1 billion on an annualized basis. That figure should have been attributed to Google's mobile advertising revenue.