Booze, coming to a Starbucks near you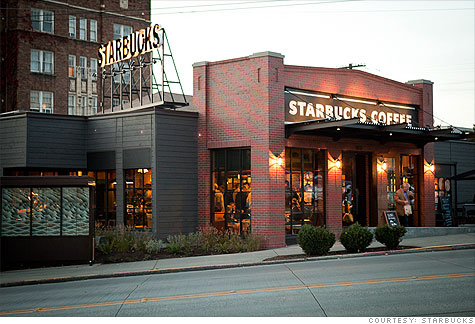 NEW YORK (CNNMoney.com) -- If you thought the coffee at Starbucks was addictive, wait until you try the beer and wine.
Starbucks is experimenting with adult beverages at one of its "learning lab" locations in Seattle. The coffee chain said Monday that it has reopened its Olive Way store in the city's Capitol Hill neighborhood after an extensive redesign.
In a brief statement announcing the reopening of the store, Starbucks said it is offering wine and beer, as well as an "expanded food menu," at the location. The statement didn't provide any details on the new alcoholic options, and calls for comment were not immediately returned.
The statement did say that the move "is in response to our customers telling us that they want more options for relaxing in our stores in the afternoon and evenings." Starbucks does most of its business in the mornings.
Starbucks, which opened in 1971, operates over 16,000 stores in more than 50 countries. It grew rapidly during the last decade, becoming one of the largest coffee chains in the world.
But the company has struggled recently to maintain that robust growth as the economy soured and coffee consumers gravitated towards low-cost rivals such as Dunkin Donuts and McDonald's (MCD, Fortune 500).
Meanwhile, Starbucks (SBUX, Fortune 500) stressed that the remake of the Olive Way store reflects its approach to store design "and our commitment to reducing our environmental impact."
The store design features "reclaimed and local materials," the company said, and is one of 20 other Starbucks locations that meets Leadership in Energy and Environmental Design, or LEED, requirements.