China hikes interest rates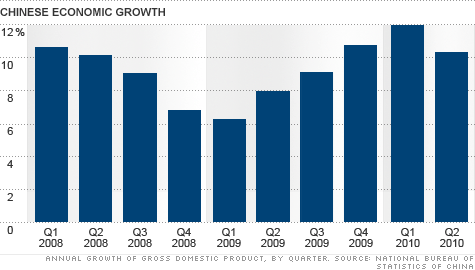 NEW YORK (CNNMoney.com) -- The People's Bank of China raised its benchmark interest rates by a quarter-percentage point early Tuesday, the first hike since December 2007.
Unlike rate change statements from the U.S. Federal Reserve, the Chinese central bank's statement did not give any reason for the move, nor any commentary on its economic forecast.

China's economy has been growing rapidly even as western economies remain mired in sluggish growth. China's gross domestic product, the broadest measure of the economy, grew at an 10.3% annual rate in the second quarter, compared to the 1.7% rate in the United States.

The rapid growth in China has resulted in sharp rises in wages, food prices and real estate. Consumer prices rose 3.5% in August, led by a 7.5% rise in food prices. And the Chinese government reported this week that overall real estate prices were up 9.1% in September compared to a year ago in the nation's 70 largest cities.

Higher interest rates are a typical step central banks take to slow those kinds of increases.
In the United States, the Fed has kept interest rates near 0% since December 2008 and is widely expected to announce new asset purchases next month in an effort to spur the U.S. economy.
China's actions shook financial markets in Europe and the United States, as the growth in China has become an important component to keeping the global economic recovery on track. All major stock indexes in Europe turned lower on the news announced after the close of Asian markets, while U.S. stocks opened sharply lower.
China's benchmark rates are not an overnight lending rate as is the case in the United States and other major western economies. Instead, it has a one-year interest rate on saving deposits, which increased to 2.5% and a one-year interest rate on loans, which rose to 5.56%.
China is due to report third quarter GDP and September price readings on Thursday, and economists said this action suggests that those readings might be coming in higher than current forecasts.
Mark Williams, senior China economist for Capital Economics, said there had been signs of softening in China's economy earlier this year but that "my guess is they wouldn't have announced it today unless they were convinced" the softness was over. His forecast is for growth of 9.5% in the third quarter.
Jay Bryson, international economist at Wells Fargo Securities, said while the timing of the rate hike might have been a surprise, the move should have been expected because of rising inflation rates.
"It's long been clear inflation is more of a concern than insufficient growth," he said.
Williams said he had expected the Chinese authorities to move to slow the economy more by allowing its currency, the yuan, to appreciate against the dollar and other freely-traded currencies, rather than by raising rates. U.S. officials and Congress have been pushing China to allow the yuan to rise.
But both Bryson and Williams said they didn't think the rate hike would do much to slow growth in China.
"Rates are very low, and demand will remain very strong," Williams said. "If you can borrow under 6% in China, you probably will."
-- CNN's Nini Suet in Hong Kong contributed to this report.