CEO Bartz defensive as Yahoo sales fall short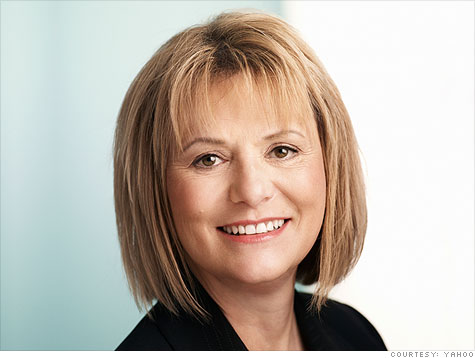 NEW YORK (CNNMoney.com) -- Yahoo needed a blowout quarter to silence its critics, and this wasn't it.
Yahoo posted third-quarter earnings Tuesday that topped Wall Street expectations, but sales just missed forecasts -- a result sure to disappoint investors hoping CEO Carol Bartz would pull a rabbit out of her hat.
The company said its net income for the third quarter rose 113% from last year, to $396 million. Excluding one-time gains related to selling companies -- an Alibaba.com stake last year, and HotJobs earlier this year -- Yahoo earned 17 cents a share in its latest quarter, up from 10 cents a year earlier.
Excluding traffic acquisition costs -- revenue shared with partners -- Yahoo (YHOO, Fortune 500) had sales of $1.12 billion. That just missed forecasts from analysts polled by Thomson Reuters, who expected $1.13 billion.
Shares fell almost 3% in after-hours trading.
The aging Internet portal has struggled to reinvent itself as it falls behind its rivals and loses ground in major areas like display advertising. Yahoo shares are down more than 6% this year, sparking takeover rumors.
Last week, the Wall Street Journal reported that fellow struggling Internet icon AOL was in early-stage talks with buyout firms about making a joint bid for Yahoo. But on Thursday, a New York Times report said a potential deal was "pie-in-the-sky." Fortune cast doubt on the math, pointing out that few private-equity firms have funds big enough to devour Yahoo.
On a post-earnings conference call with analysts, Bartz shot down questions about the buyout rumors: "As tempting as it is to tell you what I really think, you know I can't comment."
Bartz, who replaced Yahoo co-founder Jerry Yang in January 2009, has said she wants to streamline the company and refocus it around content.
But critics have grown louder as the Yahoo continues to languish.
Yahoo has lost market share in display advertising -- once its biggest stronghold -- to rivals Google (GOOG, Fortune 500) and Facebook. In the third quarter, display advertising on Yahoo's owned and operated sites grew 17% compared with last year. But those gains were partially offset by a 7% drop in search advertising revenue.
Bartz took a defensive tone with analysts, starting off the conference call with a defense of her tenure.
"We stepped back and took a good look at the company ... and we realized we had to make substantial changes," she said of the steps taken during her 21-month tenure.
Yahoo is focused on "mobile, local and social" ventures, Bartz said, citing a soon-to-be-unveiled Yahoo Mail system that will integrate photos and social networking sites like Twitter.
Yahoo has bought back more than 7% of its stock so far in 2010 because "we recognize the tremendous value of our assets," Bartz said.