Obama Economy: Stimulus is fleeting for R.I. senior center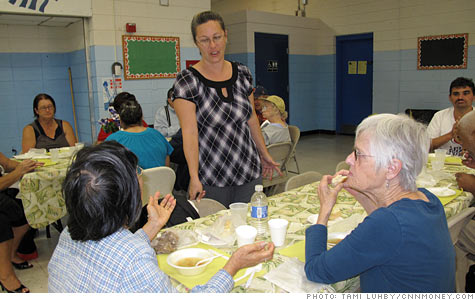 PROVIDENCE (CNNMoney.com) -- The federal stimulus program saved a senior center in Providence, R.I., from certain death last year.
But the salvation proved fleeting.
Now that the stimulus funds have run out, the Fox Point Senior Center may be forced to close its door this winter, leaving its 140 members with no place to go for a hot meal, socializing and exercise. As it is, there's only one staffer left to handle all the center's programs and seniors' needs.
"The stimulus was a Band-Aid to get us through the last year," said Melanie Borges, the center's director and sole employee. "But now we're back to scrambling."
Stimulus recipients across Rhode Island and the nation are struggling to survive now that the federal funding is running dry. States are already warning of even harsher spending cuts next July, when they have to balance their budgets without the extra help from Washington, D.C.
In Rhode Island, local groups are complaining to state officials. Fox Point's story "is not unlike what we've heard from other grantees," said Jamia McDonald, who runs Rhode Island's Office of Economic Recovery and Reinvestment, which administers the state's stimulus allocation.
When CNNMoney.com visited Rhode Island in January 2009, Fox Point was in dire straits, having lost $45,000 in state and federal funding. The center was only able to remain open thanks to a $44,000 grant from the Recovery Act.
Borges was able use that money -- plus volunteer efforts and free partnerships with city agencies -- to maintain existing programs and even expand services.
Now, in addition to a daily exercise class and hot lunch, the center offers movie nights, nutrition programs and computer classes at the nearby library. And Borges, who is two classes shy of receiving her registered nurse degree, helps dispense the seniors' medications and fill out forms for food stamps and property-tax relief.
Lyn Gregoire could not imagine her life without Fox Point. The 74-year-old attends the exercise classes, which she says keeps her healthy and gives her energy.
"I depend on it totally," said the slim and silver-haired former archivist. "I don't see how this center could not be open."
To keep its doors open, Fox Point must raise $26,000 to supplement the $17,535 it is receiving from the state and the $12,380 it gets from the city.
There's no place left for the center to cut. Its annual budget is only $46,000, down from $62,000 in 2009, and covers only Borges' salary, phone and Internet access, insurance, supplies and a few other items. Providence secured free rent and use of a pool for the center through June, which saves it $12,000.
Borges, who started in September 2009 and does not receive health benefits, laid herself off over the summer to save money. And she had to let go of a part-time assistant director in September. Later that month, she said goodbye to two assistants who were placed at the center through a welfare-to-work program because it lost some public funding.
That leaves Borges alone to answer the phones, serve lunch, run the programs, handle paperwork and address members' questions and issues. If she's out sick, there's no one to operate the center.
Borges is counting on a pasta dinner fundraiser in November to bring in the much-needed money. A similar fest, thrown by two local bars, raised $12,000 in April 2009.
Even if the fundraiser is successful, the center will likely be back in the red come July 1. That's when Fox Point will have to start paying rent and pool fees again.
"I don't know how far into the future this place can survive," said Borges.