Desperate for a holiday job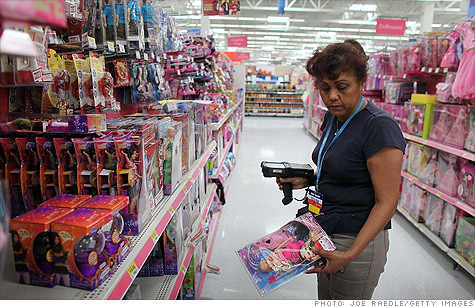 NEW YORK (CNNMoney.com) -- What most people really want for the holidays is a job. But even though some businesses are hiring seasonal workers this year, competition is fierce for those coveted openings.
There have been a slew of recent announcement from major national retail chains like Toys R Us, Macy's, Kohl's, JC Penney and UPS about holiday hiring in the months ahead. In just the past few weeks, this handful of employers announced seasonal hiring plans that will add a total of 259,000 workers to their collective payrolls, according to Challenger, Gray & Christmas, Inc. Some, like Kohls, Macy's, FedEx and UPS, have even tweeted about the call for job applicants.
That's a good start to a season that will likely surpass last year's holiday hiring. In 2009, retail employment grew by 501,400 workers in October, November and December, according to the Bureau of Labor Statistics. That was up 54% from 2008, but still well below pre-recession levels.
"This year we expect to see further gains in seasonal hiring, but it probably will not achieve the levels we saw in 2006 or 2007, when retailers' holiday payrolls grew by 746,800 and 720,800, respectively," said John Challenger, chief executive of Challenger, Gray & Christmas. "There is still a lot of doubt about the sustainability of this economy."
Half of hourly hiring managers are planning to bring on temporary workers this season, up 3% from last year, according to a recent survey by SnagAJob.com, a job search site that exclusively caters to hourly positions. They also are hiring more workers than they did last year. Each hiring manager, on average, expects to hire 3.9 seasonal workers, a 26% increase over 2009.
"These holiday hiring indicators from the frontlines of business make us cautiously optimistic that things are turning in the right direction," said Shawn Boyer, chief executive of SnagAJob.
Many of the available positions will be filled by temps returning to these jobs from last year, though, leaving fewer opportunities for those who just started pounding the pavement this year. "For job seekers out there, even with relatively more positions available, you still can expect fierce competition," Boyer said.
Single mom Aimee Brittain, 32, doesn't want to be left out in the cold. She has been unemployed since she was laid off from an administrative assistant position last January. Like many others who are out of work, she is hoping to find a job during the holiday season that will turn into a full-time position.
"I've applied to Old Navy, Ross, I have not been able to find anything. I'm applying online, in person, I'm asking friends, neighbors and I'm getting nothing," she said.
Brittain says her unemployment insurance will run out at the start of 2011 and if she does not find another job before then, she will no longer be able to afford her home in Sairburn, Ga. "Either I'm going to end up moving in with my grandmother or I don't know, it's scary," she says.
While there is more potential for temp-to-hire possibilities this year, according to Vicki Crothall, Regional Vice President at temp staffing firm Adecco, companies faced with a larger applicant pool are choosing candidates with more experience and a higher skill set than in previous years.
Job seekers trying to get a leg up will have the most luck at large discounters like Target and Wal-Mart, which are expected to have strong sales this holiday season, Challenger advises.
But, the available spots will likely be behind the scenes. "The big box stores need extra workers on the floor, but they also need extra workers in their shipping facilities and overnight stocking positions," he said.
In addition to retail stores, SnagAJob's Boyer recommends that seasonal job seekers consider shipping companies like UPS and FedEx, catering companies, photography studios, restaurants, security firms and movie theaters that also see a boost in business over the holidays.
Bring a good attitude and well-edited resume that highlights a background in customer service and experience working in a team environment, he adds. Flexibility is also key.
According to SnagAJob's survey of hiring managers, the most important factors when hiring a seasonal employee are experience, a positive attitude and the ability to work within the schedule.