Auction at negative yield still draws demand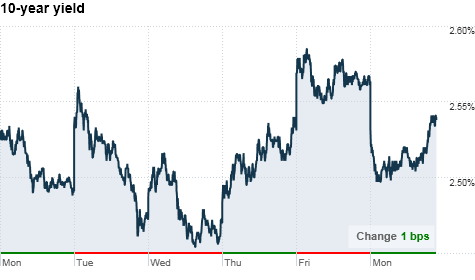 NEW YORK (CNNMoney.com) -- For the first time ever, the government auctioned off 5-year inflation-indexed Treasuries at a negative yield Monday, as investors bet rising prices will be an issue in the next five years.
For more than three weeks, bond traders have focused on forecasts that the Fed will announce a second major round of asset purchases in November in an effort to stimulate the American economy.
And during a $10 billion auction of 5-year Treasury Inflation Protected Securities, or TIPS, at a negative 0.55% yield, it was clear bond traders think the Fed will be successful at spurring inflation, said Kim Rupert, a fixed income analyst with Action Economics.
So why would bond traders opt for negative returns?
Unlike other Treasuries which have a set yield, TIPS are tagged to inflation rates, so if inflation goes up, the government pays a premium to the bond holder. In this case, investors must be thinking that "inflation rates will be problematic in five years, and the premium is going to be rather large," Rupert said.
While TIPS have a niche audience and $10 billion is still a rather small auction, the fact that a negative yield would draw demand is indicative of the overall trend driving demand for government bonds lately, she said.
Investors are speculating the Fed will announce another round of so-called quantitative easing in November -- and that policy would likely include a large buy of Treasuries.
The result of these purchases would, in theory, drive prices up, while pushing yields down on government bonds; hence the reason why investors have been trying to get ahead of the Fed by buying up long-term bonds at their current prices and yields.
What yields are doing: After falling nearly all day, the yield on the benchmark 10-year note rose to 2.57% late in the trading session, up from 2.56% on Friday.
The yield on the 30-year bond fell to 3.91%, from 3.94% Friday.
After the TIPS auction, yields on the 2-year note rose to 0.37%, and the 5-year note rose to 1.18%.
Auctions: Monday's price gains were contrary to the traditional activity seen during an auction week -- as traders usually try to push the price of bonds down ahead of major government auctions.
On deck for the rest of the week: a $35 billion auction of 2-year notes on Tuesday, $35 billion in 5-year notes on Wednesday, and $29 billion of 7-year notes on Thursday.
In the meantime, bond traders will continue to watch for more clues ahead of the the Fed's decision and mid-term elections next week.