Banks spend big to sell credit cards to students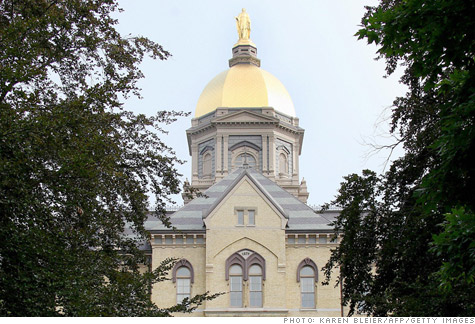 NEW YORK (CNNMoney) -- The U.S. Marines recruit college students to become one of the few, one of the proud.
Bank of America just wants their financial future.
The Charlotte, N.C.-based bank spends exponentially more money than any other bank to recruit students for credit cards.
In 2009, Bank of America unit FIA Card Services paid colleges and alumni associations $62 million for the rights to market cards to students and members, according to a report from the Federal Reserve.
The second biggest spender, Chase, dropped $13.8 million to recruit new borrowers, while U.S. Bank forked over $2.5 million.
When the Credit Card Accountability and Responsibility and Disclosure Act -- better known as the CARD Act -- went into effect in February, it required credit card companies to disclose how much they pay colleges for the right to set up on campuses -- plus how many new borrowers it racked up. On Monday, the Federal Reserve made its first report.
In total, the report showed that credit card companies spent $82.4 million to net 53,164 new student accounts.
The University of Notre Dame got the biggest payment of any school: Chase paid the school $1.8 million and in the end got 77 new borrowers. The school used the funds exclusively for financial aid, according to university spokesman Dennis Brown.
Meanwhile, Bank of America spent $1.5 million on the University of Southern California campus to sell 659 new accounts.
"If you look at how much is being paid per account, the numbers vary wildly," says Josh Frank, senior researcher at the Center for Responsible Lending.
In pre-CARD Act year, Frank estimates that 200,000 to 600,000 new accounts were opened on college campuses and through alumni and other organizations.
"But even in a normal year," he said, "this seems like a lot of money to pay per account. But it's possible that they just value those accounts more highly and that they're more profitable for them."
One major change from the CARD Act is that students under 21 can no longer obtain a credit card without a co-signer -- something that could severely limit new accounts. Credit card companies also can't entice new borrowers through T-shirts and other giveaways -- unless they are 1,000 feet (about three football fields) away from the campus.
"Anecdotally, it does seem to be a different environment on college campuses," Frank said. "Banks are still on campus, but their presence is lower.