All that hype won't sell electric cars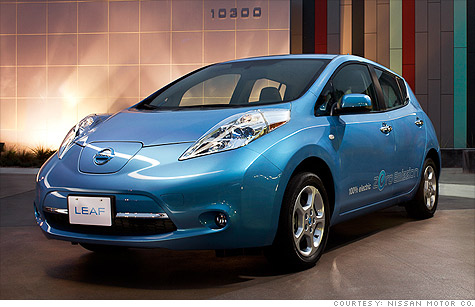 NEW YORK (CNNMoney.com) -- If you thought electric cars were about to take over the world's highways, a new report by auto analysts at J.D. Power Associates says, "Not so fast."
By 2020, the vast majority of new cars sold around the world will run on gasoline, not electricity, according to the report "Drive Green 2020: More Hope Than Reality." In ten years, just 7.3% of passenger vehicles sold globally will be hybrids or plug-in cars of some kind, the study predicts.
Percentages for the U.S. will be higher -- about 14% of the total new car market -- but the vast majority of those will be "conventional" non-plug-in hybrids like the Toyota Prius or Ford Fusion Hybrid, said Mike Omotoso, director of powertrain forecasting for J.D. Power.
Plug-in hybrids and full-electric cars will represent only 1% to 2% of new car sales in the U.S. by 2020, he said.
"We'll reduce our gasoline consumption but we're still going to use gasoline," Omotoso said.
Moving more drivers to battery-powered or hybrid cars would require one or more of the following to take place, J.D. Power's report says:
A big increase in global petroleum prices.
Major technological breakthroughs that would reduce the costs of hybrid and electric cars.
Government policies to encourage consumers to buy electric.
For now, consumers worry about driving range, they dislike electric cars' designs, worry about charging time, and aren't confident about the dependability of the technologies.
But the biggest worry is simple economics, according to the report. Interest in green cars declines considerably when potential buyers learn the cost of the vehicles, which are higher than for comparable gasoline-powered cars.
"For example, among consumers in the U.S. who initially say they are interested in buying a hybrid vehicle, the number declines by some 50 percent when they learn of the extra $5,000, on average, it would cost to acquire the vehicle," John Humphrey, senior vice president of automotive operations at J.D. Power said in a statement.
Buyers also aren't sure about the long-term economic benefit of owning a hybrid or plug-in car, according to the study. Potential buyers aren't convinced that they'll save enough on gas to make up for the extra cost.
Also, the big, expensive batteries tend won't last forever, so the potential for a hefty replacement cost also weighs on people who consider going electric.