New rule: No more up-front fees for debt fixers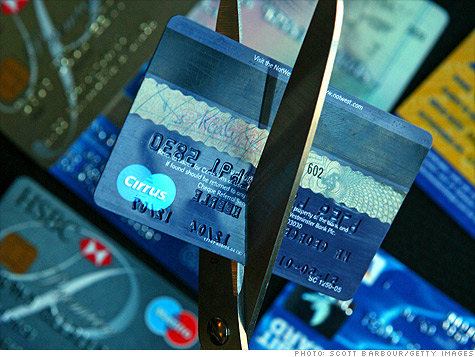 NEW YORK (CNNMoney.com) -- Companies that claim to settle your debts for less than you owe can no longer charge up-front fees for their services. Instead, they have to wait to collect from consumers until they actually deliver on the promise.
The new rule goes into effect Wednesday and is part of the Federal Trade Commission's effort to clamp down on deceptive debt-settlement practices.
"Consumers who are very deeply in debt and don't know how to pay it down are trying to do the right thing by signing up with these companies, and they end up paying thousands and thousands of dollars in fees and filing for bankruptcy anyway," said Lauren Bowne, a staff attorney at the Consumers Union. "Now, that shouldn't happen anymore."
Under the new rule, settlement companies are required to tell you how much debt will be reduced by presenting agreements from your creditors. Then they must receive your consent to move forward. Only then do you pay a fee for their services.
To ensure you actually have enough money to pay off your debt, you do make one payment toward what you owe at the beginning of the process.
The upfront-fee ban marks the final addition to a slew of other regulations that went into effect late last month. Those rules require companies to provide certain disclosures about their services, such as how much money customers will end up forking over and how long the settlement process will take.
"Our hope with the new [upfront-fee ban] is that when new consumers sign up for these services, they will only be paying for results," said Evan Zullow, an attorney in the FTC's division of financial practices. "And with the new disclosure requirements, during the process they will be getting accurate and non-deceptive information to help them decide whether to enroll."
The Association of Settlement Companies said it accepts the rules, but offered an alternative to the upfront-fee ban, arguing that the fee shouldn't be delayed since services are provided to customers throughout the settlement process, not just at the end.
"TASC proposed, and continues to believe, that a less intrusive and equally consumer-protective solution would have been to mandate a full-refund policy, backed up by a surety bond," TASC said in a statement.
How settlement companies can still get you: Since the FTC's final rule was created under the Telemarketing Sales Rule, it only applies to companies selling services by phone.
That means if you meet a company representative face-to-face -- or if a notary swings by your home just to have you sign the paperwork -- you could still wind up paying the hefty upfront fees.
Because of this loophole, Bowne said she wouldn't be surprised if many companies follow up their traditional phone solicitations with in-person presentations so they are able to continue to bring in revenue.
But Zullow said the FTC may take action if it finds companies meeting with customers just to skirt the rule. Settlement companies must give actual in-person sales presentations to customers, rather than simply stop by a consumer's home to collect a payment.
In addition, most attorneys are exempt from the rules because they typically meet with clients face-to-face before enrolling them in any debt-settlement services. As a result, some companies are already posing as attorneys to convince customers to hand over those upfront fees.
Just this month, the North Carolina Attorney General sued a debt-settlement company for this very practice, claiming the Consumer Law Group of Boca Raton, Fla., collected $2.6 million from more than 3,000 consumers by posing as a law firm and telling consumers that it wasn't not governed by the FTC rules.
"This new rule is designed to combat deception and abuse, so for an existing debt-relief company, the mere fact that they decide to hire lawyers and call themselves a law firm is not going to cut it," said Zullow.
How to play it safe: Bowne recommends going straight to the creditors on your own first, and then sticking with reputable non-profit credit counselors like the National Federation of Credit Counselors if going at it alone doesn't work.
"These debt settlement companies aren't doing anything you can't do yourself, so you should always try to negotiate or set up a payment plan on your own, then contact a non-profit credit counselor if you need help setting up a legitimate payment plan," she said. "Going with a debt settlement company is a risk."