Monster roars. Good news for jobs?
NEW YORK (CNNMoney.com) -- The job market may not exactly be healthy. Unemployment is still relatively high around the country and those who have been out of work a long time are really struggling to find permanent, well-paying jobs.
But is there finally a light at the end of the tunnel for job seekers? If you look at the results of top job recruitment site Monster Worldwide, there is reason for hope.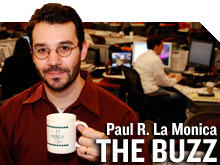 Monster reported third-quarter results Thursday that easily topped forecasts. More importantly, the company raised its fiscal outlook.
Investors loved the news. Shares of Monster (MWW) surged more than 25% Friday, making it the top gainer in the S&P 500 by far.
But even if you weren't lucky enough to be holding Monster stock before the earnings report, there still may be something to celebrate.
During the company's conference call, Monster CEO Sal Iannuzzi said that "while economies still aren't as strong as any of us would like to see them around the world, they are picking up."
He added that "the momentum clearly in Europe, United States, North America and Asia is significantly more positive than it was a year ago."
What's more, Iannuzzi noted that several of its corporate customers in the past few weeks have begun to shift from laying off workers to planning recruitment campaigns for 2011.
Of course, the strong results for Monster don't definitively mean that the job market is now in a full-blown recovery mode.
Tim Boyd, an analyst who covers Monster for MKM Partners in Stamford, Conn., points out that one reason Monster is doing well has more to do with technology trends than the economy.
Monster and other sites like it are continuing to steal market share from the help-wanted sections of newspapers. But Boyd said it would be impossible for Monster to raise its fiscal outlook without there also being a good macroeconomic reason for doing so.
"What Monster is telling us is that things have gotten better since the summer. We're not out of the woods, but the fact that the company was able to boost its guidance as much as it did is a sign that the job market and economy has improved," Boyd said.
It's encouraging that, as the chart at the top shows, unemployment is down from its peak earlier this year and the number of people filing for initial jobless claims has fallen in recent weeks.
The government's October employment report is due out on Nov. 5, and the numbers are expected to show more modest signs of improvement.
Although the unemployment rate is expected to remain at 9.6%, economists are forecasting that 45,000 jobs were added overall in October -- compared to a loss of 95,000 jobs in September.
Haag Sherman, managing director for Salient Partners, an investment firm in Houston, said he thinks companies such as Monster are benefiting from a real pick-up in demand.
Sherman said that while state and local governments might continue to cut jobs due to budget woes, dampening the overall labor figures, he thinks that people are underestimating the interest private-sector companies have to bring back workers.
"Private-sector hiring should be better than people expect. It should steadily improve throughout the end of this year and 2011. It's not a fluke," he said. "Corporations have been able to slowly nurse themselves back to health."
Leslie Barbi, head of the fixed income for RS Investments in New York, agreed. She thinks that the private sector may have added between 100,000 and 125,000 jobs in October. Economists are forecasting an increase of 60,000 jobs from the private sector.
Barbi said the fact that many companies, and not just Monster, are reporting healthier fundamentals has to be considered a positive development.
"Earnings and revenue have come in better for many companies and we're not hearing firms lowering their outlook," she said. "Companies also are raising their capital expenditures outlook. It seems like confidence is coming back."
Of course, with millions of out-of-work Americans still having a tough time finding a new job, the fact that Monster had a great quarter and its stock is up is little consolation.
But one economist pointed out that it's important to remember just how far the job market has come in such a short period of time. Growth, even at a sluggish pace, is better than reports of hundreds of thousands of jobs lost a month.
"Americans have the tendency to underestimate recoveries," said Brian Levitt, economist with OppenehimerFunds In New York. "Yes, job creation is not robust, but this is a vast improvement from a year ago."
Reader comment of the week. Does Carl Banks have a retort? I wrote on Wednesday about how it was interesting to see long-term bond yields edge up again ahead of the Fed's widely-expected QE2 announcement next week. Many strategists suggested that a bond bubble may be bursting and that rates will continue to head higher.
But one skeptical reader said we all should take whatever experts say with a big grain of salt. "Most analysts and economists with their advanced degrees and financial models couldn't forecast where the market would be at today, yet they're all eager to tell us what's going to happen tomorrow. LOL," wrote Randall Cunningham.
I always love to see reader cynicism. But the name of this poster also jumped out at me. Is this THE Randall Cunningham, i.e. the former Philadelphia Eagles quarterback? If so, why so glum? And your miracle touchdown against my beloved New York Giants back in 1988 still gives me nightmares.
- The opinions expressed in this commentary are solely those of Paul R. La Monica. Other than Time Warner, the parent of CNNMoney.com, and Abbott Laboratories, La Monica does not own positions in any individual stocks.