Toyota unveils a sporty Prius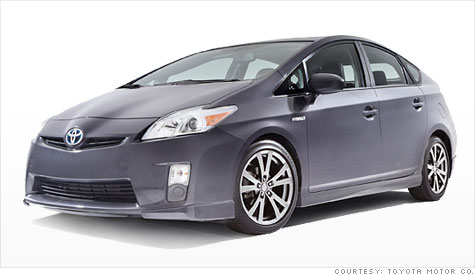 NEW YORK (CNNMoney.com) -- Performance and fuel-efficiency are not usually words you hear in the same sentence. But who says hybrids can't be sporty?
Toyota said Tuesday that it will unveil the Prius PLUS Performance Package, a hybrid performance line developed by the automaker's racing division, at a car show in Las Vegas this week.
The tricked-out version of Toyota's popular gasoline-electric powered car will be available in limited production starting in April 2011. Toyota expects to have more information on pricing closer to the official launch date, according to spokesman Greg Thome.
While there are no changes to the car's powertrain, the package comes with a number of external features designed to make the Prius look more sleek and speedy.
Drivers will be able to have their Prius outfitted with a seven-piece body kit that has a "uniquely styled rear diffuser," as well as front and rear bumper spoilers and a side skirt.
The Prius PLUS is also lower than the standard version, with "sport-tuned lowering springs" and a rear "sway bar" to improve handling. In addition, the performance Prius has 17-inch forged wheels with low profile tires.
Toyota (TM) said the car will come replete with "exclusive floormats" and an exterior badge with the "PLUS" logo.
The package was developed to meet the "evolving demands of the growing hybrid segment," Toyota said in a press release. But it may also be designed to lure drivers that are wary of hybrid cars, which are often seen as less muscular than gas powered ones.
Despite the added weight from the body kit and other features, Toyota said the modifications will not impact the Prius' gas mileage.
"The end result is a more fun-to-drive, performance-enhanced Prius that maintains its industry-leading fuel efficiency," the automaker said.