GM strengthens ties with Chinese partner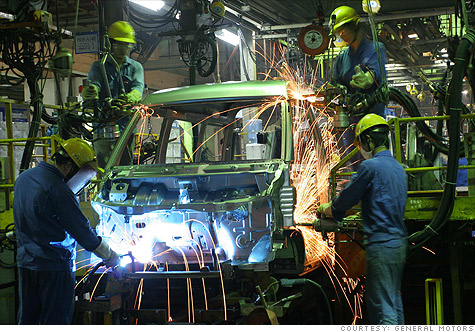 NEW YORK (CNNMoney.com) -- General Motors announced closer ties with its Chinese partner SAIC Motor Corp. on Wednesday, in a partnership aimed at designing new vehicles for global markets.

The memorandum of understanding announced Wednesday says the companies will share research and development costs on additional vehicle architecture and powertrains, as well as work on a new generation of electric vehicles for the Chinese market.

The agreement should help the two companies capitalize on new development opportunities in other emerging markets, according to the statement.
But the agreement stopped short of SAIC announcing it would take a minority ownership stake in the U.S. automaker, as previously discussed.
SAIC officials have expressed interest recently in buying a 5% stake in GM once it starts selling shares.

But GM spokesman Mike Albano said the memorandum does not address ownership stake, and that any comment on SAIC interest in GM would have to come from the Chinese company. SAIC officials were not immediately available for comment.
China has become a key operation for General Motors, as it has grown to become the world's largest auto market. The 7% rise in U.S. sales so far this year have been easily outpaced by 37% growth in Chinese sales.
GM is expected to make a filing soon giving more details of its plan to sell shares to the public for the first time since its emergence from bankruptcy in July 2009.
The filing will give the company's first estimate of its market value, as it gives a range of expected share prices that could indicate whether U.S. taxpayers will see a profit on the government's $50 billion bailout of the company.
GM's common stock will be sold not by the company but by its four current owners, the U.S. Treasury Department, a union-controlled trust fund, the Canadian government and the shell of the old GM which is still working its way through the bankruptcy process.
The expected company filing should reveal how much of Treasury's majority 60.8% stake in GM will be sold as part of the IPO.

Treasury will hold onto most of its stake for an undetermined time to avoid flooding the market with GM shares and driving down the price. The price that Treasury eventually gets from those future sales will determine whether taxpayers get paid back.
The company has already repaid about $7 billion in loans and announced plans to repurchase $2 billion in preferred shares held by Treasury. It has also paid about $700 million in dividends and interest to Treasury since the bankruptcy.
Given Treasury's current stake in GM, and the $40 billion yet to be repaid, the total value of the company would need to be about $66 billion in order for taxpayers to break even on the 2009 bailout.
That might be possible, as analysts have forecasted GM shares could end up being worth between $64 billion and $80 billion, based on future earnings. But recent published reports suggest GM's IPO range is likely to put the value of the company in the $40 billion to $44 billion range.
The previous high-water mark for GM's market value was only $61 billion, back in May 1999. But with its trip through bankruptcy in 2009, the company was able to shed much of its debt, excess factory capacity and dealerships.

Its 2007 labor deal with the United Auto Workers union relieved it of its obligation to cover expensive medical care for retirees, leaving the company able to make money at a much lower level of sales than in the past.
But GM's top domestic rival, Ford Motor (F, Fortune 500), has a market value of just under $50 billion, even with a 43% rise in the value of its stock so far this year.