Time Warner earnings top estimates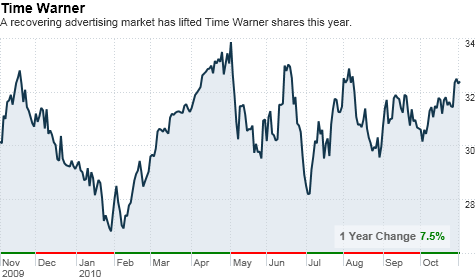 NEW YORK (CNNMoney.com) -- Time Warner Inc. reported earnings that topped Wall Street's expectations Wednesday and raised its outlook for 2010, thanks in part to a boost in advertising revenue.
The New York-based parent company of CNNMoney.com and Fortune said net income from continuing operations was $522 million, or 46 cents per share, down 10% from a year ago.
The decline in profit came as the media giant redeemed some of its debt in an attempt to strengthen its balance sheet, resulting in a charge of $295 million.
But adjusted operating income, a commonly used profit metric for media companies, rose 5% to $1.4 billion, or 62 cents per share. Analysts polled by Thomson Reuters were looking for earnings of 53 cents per share on that basis.
Time Warner's sales rose 2% to $6.38 billion, slightly lower than analysts' forecasts of $6.41 billion.
Time Warner chairman and chief executive officer Jeff Bewkes said in a prepared statement that the company "remains on track for a very strong year" and added that the "strategy of focusing on high-quality branded content continues to pay off."
For the full year, Time Warner said it now expects earnings to be up in the high 20% range from the $1.83 per share the company earned a year ago. In the second quarter, the company had forecast earnings for 2010 to be up at least 20%.
Revenue at the company's network division, which includes CNN and HBO, climbed 9% to $3 billion, helped by a 10% rise in advertising revenue and a 9% increase in subscription revenue.
"We're looking at this as a very solid quarter," said Thomas Eagan, an analyst at Collins Stewart. "The best part was the increase in subscription revenue and ad revenue at the cable networks."
Sales at Time Warner's film business, Warner Bros., remained flat as the company's films failed to beat out last year's hit releases including "Harry Potter and the Half-Blood Prince" and "The Hangover".
But Bewkes said he has high hopes for the films on deck in the fourth quarter, including "Harry Potter and the Deathly Hallows: Part 1".
The company's publishing branch, Time Inc., continued to struggle in the quarter, despite a jump in advertising revenue. Overall revenue fell 1% to $901 million, as a 5% rise in advertising revenue was offset by a 5% drop in subscription revenue and a 12% decline in other revenue.
"[Time Inc.] is still struggling a little, said Eagan. "We expect to see continued low single-digit growth increases in ad revenue, but subscription revenue will be challenged for a while."
Shares of Time Warner (TWX, Fortune 500) were down nearly 1% but have climbed about 11% so far this year. Other media stocks have also had a decent run in 2010 amid hopes of a rebounding economy and recovering advertising market.
Time Warner is the first of the major media companies to report third quarter earnings. News Corp. (NWSA) is slated to release results after the market close Wednesday, CBS (CBS, Fortune 500) earnings are due Thursday and Walt Disney (DIS, Fortune 500) is on tap to post results next week.
AOL Inc. (AOL), which Time Warner spun off last December, also reported earnings Wednesday that beat expectations, but advertising sales were significantly lower from a year ago.