The car that can make or break GM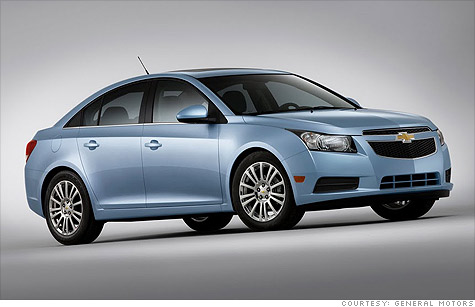 NEW YORK (CNNMoney.com) -- Forget about General Motors going public again, or rolling out the electric-powered Volt. GM's biggest debut this fall is the Chevrolet Cruze, perhaps its most important car in decades.
The Cruze, GM's new compact car, is designed to compete with the Toyota Corolla and the Honda Civic, as well as new small cars from Ford Motor (F, Fortune 500) and Hyundai. The Cruze's ability to attract buyers, both in the United States and around the globe, will go a long way in determining how profitable GM will be, and whether it's put the problems that dragged it into bankruptcy behind it.
"The Volt is getting all the publicity, but it's the Cruze that certainly is most important, in volume and in proving that GM can make a small car in the United States and do it profitably," said Michelle Krebs, senior analyst with Edmunds.com.
The compact car segment is one that Detroit automakers ignored for decades, making uncompetitive offerings and essentially paying car buyers and rental car companies to take enough of the cars to meet federal fuel economy standards.
But with tougher regulation ahead, that business model will no longer work. U.S. consumers battered by a weak economy and high fuel prices are also more interested in the economy car segment than ever before.
Globally, compact cars are the most important part of the market, making up nearly a third of worldwide auto sales.
"A strong showing in the [compact] segment is critical for success of most companies going forward," said Michael Robinet of IHS Automotive.
Driving expectations
Because of growing worldwide demand, the Cruze is the automaker's first truly global car, designed to sell big in both China and the United States, as well as other international markets.
Cruze didn't hit U.S. showrooms until September, and has sold just under 6,000 vehicles so far. About 300,000 Cruzes have sold worldwide already since being introduced in Europe in 2009. Sales tracking service TrueCar estimates that sales of 165,000 cars through August of this year has made the Cruze GM's best selling model of 2010, even before it reached the U.S. dealers.
"It is the first well-done example of how GM can use its global platforms to make a true world car," said Jesse Toprak of TrueCar.
GM executives have high expectations. While the company won't release sales targets for the car, it does expect the Cruze to become the best-selling U.S. car model. The company has added an extra shift to U.S. production at its Lordstown, Ohio, plant to meet expected demand for the vehicle.
Robinet estimates the Cruze will reach annual North American sales of 250,000, 215,000 in China and about 75,000 elsewhere around the globe as soon as 2012.
A tough road ahead
But Cruze's profitability will depend on more than just its global scale. Toprak said GM will have to be more aggressive on pricing, especially offering attractive leases to customers who might not have the best credit, if it's going to reach sales targets for Cruze.
"It is a crowded market. You need to find a way to stand out in that crowd. And the message that consumers in that segment respond to is value -- how much can I get for my money?" said Toprak.
Plus, there is the stigma that GM now faces. Even with greater demand for compact cars, industry experts say it will be a challenge to get economy car buyers in the U.S. looking at Cruze, after years of shunning GM.
Jeff Schuster of J.D. Power & Associates said while the Cruze is more competitive than its earlier small car offerings, he doesn't see it topping the Corolla or Civic in sales.
"That would be a pretty tall order," he said.