Robot cars: Google searches for next Android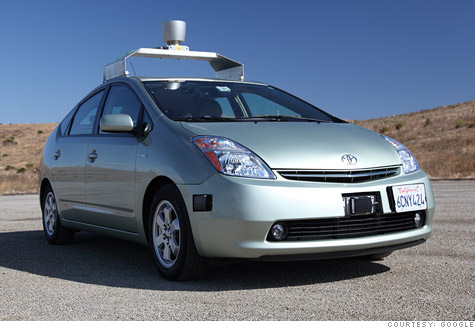 NEW YORK (CNNMoney.com) -- When Google bought Android in 2005, pretty much everyone thought the search company was crazy.
Five years later, Google has had the last laugh. The company revealed in its third-quarter earnings report last month that its mobile advertising business was on pace to bring in more than a billion dollars a year. Since then, Google's (GOOG, Fortune 500) shares have soared more than 14%.
Google's seemingly expensive purchases of YouTube in 2006 and DoubleClick in 2007 have also both paid off. Those deals were considered wild and too far outside of Google's core business at the time, but today, the two combine for a $2.5 billion a year display advertising business.
But when Google recently announced it was working on driverless, robotic cars; and investing in off-shore wind farms and human-powered monorail pods, analysts were once again scratching their heads.
"I'm perplexed," said Sandeep Aggarwal, analyst at Caris & Co. "Whenever Google makes investments in non-core areas, we typically welcome them, but wind farms and robotic cars do not tie into search, and they are far-fetched efforts from a revenue perspective."
Google defends the investments though and maintains there is a method to what may seem like madness.
"Driverless cars may not seem related to what we're doing, but these are some of the big bets we're making on the future," said Aaron Zamost, spokesman for Google.
Google has always held that crazy ideas were part of its business model. Founders Larry Page and Sergey Brin said as much in the company's IPO statement in 2004.
"We will not shy away from high-risk, high-reward projects because of short term earnings pressure," the statement said. "Do not be surprised if we place smaller bets in areas that seem very speculative or even strange when compared to our current businesses."
The company says its investments are based on three core principles: solving big problems using technology, innovating based on trends and technical insights and betting on open systems.
Wind farms and robotic cars would appear to fit those criteria. Still, at first glance, it would seem like those investments are farther outside the realm of Google's core business than Android or YouTube and harder to make into a strong revenue stream. But Google disagrees with that notion.
Zamost said robotic cars could be integrated with Google's mapping tools, for example. At the same time, he conceded that there won't be an immediate benefit to the company's sales and profits.
"I wouldn't say there's a likelihood that there will soon be an 'a ha' moment for investors with driverless cars," he said.
But are any of these investments really likely to lead to the next multi-billion dollar business for Google? Some analysts are skeptical.
"Would they be happy to stumble into an umpteen bajillion dollars? Sure," said Whit Andrews, an analyst at Gartner." But I don't think that's what it's about. It's really an incalculable value. It makes people feel like they work somewhere cool, and being able to command top talent is a great asset."
Google refutes the idea that it is investing in businesses for the PR value. CEO Eric Schmidt has said in the past that investments in things like green energy make perfect business sense.
Schmidt also has defended the company's investments as disciplined, saying that 70% of its investments are in its core search business, and 20% go to adjacent opportunities, while just 10% go to non-search-related enterprises.
And what may seem like a non-core investment for Google at the time it was made can make a lot more sense years down the road.
Three years ago Google snapped up communications technology developer GrandCentral Communications, which created a system for letting one phone number ring multiple devices.
GrandCentral's software eventually grew into Google Voice, a service that centralizes voice communications and offers a bunch of enhancements, like instant voice-to-text transcription.
Google Voice's mobile service currently piggybacks on carriers' networks to enable free domestic calls and texts, and low-cost international calls. But on PCs, Google lets users place calls directly over the Internet.
It's easy to connect the dots and envision a scenario in which Google launches its own data-only phone network, in competition with the major wireless networks. And maybe that wireless service will one day be used to transmit data to Google's fleet of driverless cars.