New BMW plug-in hybrid sports car on the way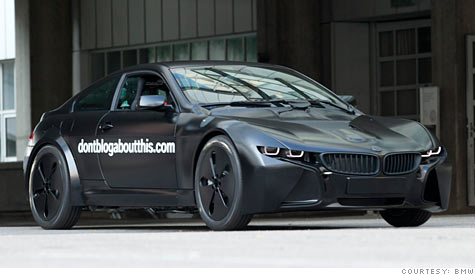 NEW YORK (CNNMoney.com) -- BMW will mass produce a high-powered plug-in hybrid sports car, the German auto maker announced Friday.
Based on the Vision EfficientDynamics concept car that captured the top prize at the 2009 Frankfurt Motor Show, the 328-horsepower car will feature 2+2 seating and winged doors.
The car will be powered by a 3-cylinder turbo diesel and electric motors.
BMW has not yet announced pricing or when the car will go into production.
The car will charge from a conventional power socket in just 2.5 hours, and BMW indicated its fuel efficiency will approach 90 miles per gallon.
The performance numbers for the car back up its flashy looks, with the model requiring just 4.6 seconds for the sprint from zero to 60 miles per hour, BMW said. The car's top speed was not announced.
The car will have an electric-only driving range of about 31 miles, while diesel power extends the total range of the vehicle to up to 435 miles, according to BMW.
This will not be BMW's first hybrid. In addition to the X6 and X5 hybrid SUVs already on the market, BMW is expected to produce a hybrid version of its 5-series model.
In July, BMW competitor Porsche announced it will produce a limited number of its 918 Spyder plug-in hybrid sports car, which boasts a 500-horsepower V8 engine and is expected to be among the most expensive Porsches ever produced.