Key GOP rep warns of banking 'mass exodus'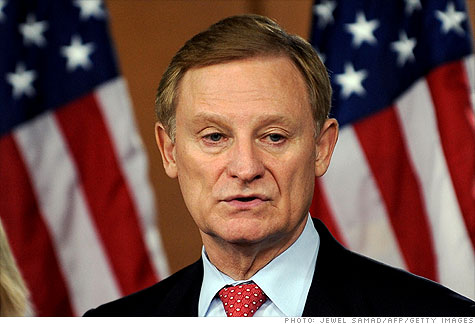 NEW YORK (CNNMoney.com) -- The congressman likely to supplant Rep. Barney Frank as chairman of the House Financial Services Committee is asking regulators to carefully consider the implications of a new rule designed to limit risky trading.
Rep. Spencer Bachus, a Republican from Alabama, warns in a letter sent to Treasury Secretary Tim Geithner and the Financial Stability Oversight Council that an overly-strict implementation of the Volcker Rule will spark a "mass exodus" of clients from U.S. banks to their competitors abroad.
The aim of the "Volcker Rule" is to stop big banks from making trades on their own accounts, especially since commercial banks have access to funds back-stopped by the government. The measure was included in the massive financial reform legislation signed into law by President Obama earlier this year.
In the letter, Bachus argues that if the language of the rule is rigidly implemented, U.S. banks will be at a disadvantage.
"If the Volcker Rule's prohibitions are expansively interpreted and rigidly implemented against U.S. institutions while other nations refuse to adopt them, the damage to U.S. competitiveness and job creation could be substantial," Bachus writes in the letter.
The Bachus letter was written in response to a request for comment from the Financial Stability Oversight Council, a regulatory body created by the Dodd-Frank Act that is charged with studying and adopting regulations to carry out the Volcker Rule.
On Thursday, the authors of the Volcker Rule, Democratic Sens. Carl Levin of Michigan and Jeff Merkley of Oregon, submitted their own letter to the council, arguing the measure remains necessary.
In particular, Merkley and Levin warn that banks will try to skirt the regulations by continuing proprietary trading through "market-making."
The pair also suggest the council should study ways to encourage foreign banks to adopt regulations similar to the Volcker Rule, a move that would level the playing field for U.S. banks.