How El Paso, Texas dodged the recession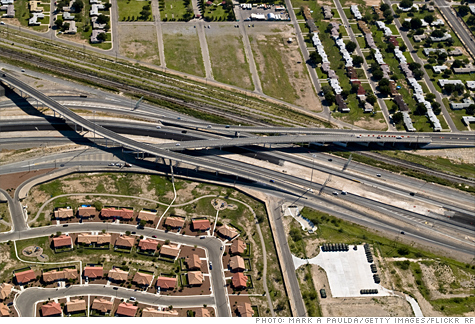 FORTUNE -- In most parts of the United States, Americans have lost hope that their homes will restore their value or that unemployment will drop significantly anytime soon. But in the westernmost corner of Texas, there's more than hope -- there's an unlikely building boom happening. The U.S. military base Fort Bliss, covering an area larger than Rhode Island, has become one of America's largest military installations, and that's having a dramatic impact on an otherwise depressed economy.
Congress might not have known it then, but its move to expand Fort Bliss as part of the 2005 changes under the Base Closure and Realignment Commission (BRAC) has coincidentally saved El Paso, Texas from falling into the depths of the latest economic recession. Whereas home construction has continued to drop to record lows across most of the country, this city of 751,000 is experiencing relatively robust growth. In fact, the influx of soldiers, military personnel and their families has created a shortage of housing units on the base, helping drive up demand for housing and developers in El Paso, according to U.S. military officials.
Fort Bliss is one of many bases where locals have seen a boom in construction partly due to BRAC and other unrelated efforts by the U.S. Department of Defense to expand and reorganize military bases. When a base closure or consolidation happens, members of the military and their families are driven to new areas. And around many of these areas, newcomers are viewed as an instant economic stimulus, causing a ripple effect that drives up demand for everything from new homes and restaurants to retail and other businesses.
Of course, for every regional boom created by BRAC, there's an economic setback somewhere else. The closing of Fort Monmouth in New Jersey is expected to cause more than 9,000 job losses in the area by 2011. But in Maryland, where many of the personnel have been relocated, home sales are soaring. By some government estimates, the onslaught of military, personnel and their families into the Fort Meade area could eventually generate as many as 22,000 federal and private-sector jobs and $61 million construction projects.
While Maryland and other areas have gained from BRAC, Fort Bliss is perhaps among the biggest winners. It's the military's largest training area, and the combination of desert and mountainous terrain replicates the battlefields of the Middle East. Since 2005, base closures mostly in Germany (home to the First Armored Division) have brought an additional 14,000 soldiers to Fort Bliss. By 2012, there will be an additional 13,000, bringing the base's total military headcount to 38,000. It's the largest percentage increase at a single military installation since the Second World War, according to the U.S. military.
It's a boom that real estate companies such as Place Properties have benefitted from. The Atlanta-based company that specializes in acquiring and managing residential communities for college students and the military currently has six projects totaling about 4,000 multi-family units across the country including Texas (El Paso included), Oklahoma and Kentucky.
Chairman and CEO Cecil M. Phillips says over the next three years, the company's goal is to reach 20,000 units plotted across other military bases including those in Virginia, North Carolina and Washington State.
"A number of these communities are grossly undersupply on off-base housing," Phillips says, adding that while BRAC is a key driver of the heightened demand, the thousands of soldiers returning from the Middle East is also driving the charge some.
It's a welcome sight. For years, El Paso has struggled economically. With Fort Bliss as a major employer, the area is undergoing some of its fastest population growth in recent history. Fort Bliss' expansion positioned El Paso to withstand the latest recession and to recover from it faster than most cities.
El Paso climbed five notches on the Milken Institute's latest Best-Performing Cities Index, ranking ninth out of the nation's 200 largest metro areas. The California-based think tank attributes expansion of Fort Bliss as one of the big drivers of its economic strengths, although the city continues to face big hurdles as it tries to position itself to draw high-tech companies to the area.
No boom, no bust
El Paso didn't see home prices surge with the real estate bubbles of 2000 to 2007, which helped cushion the blow from the housing crisis. And although home prices haven't exactly increased much with the boom in construction, they have remained steady, only barely coming off their peak. This is significant, especially since home prices nationwide have fallen roughly 20% since boom times, says Ross DeVol, the institute's executive director of economic research. The El Paso home construction boom is mostly seen in multi-family units instead of single-family homes. And because of the transient nature of military life, most of the units are occupied by renters as opposed to owners.
"Military construction stemming from the BRAC-initiated expansion at Ford Bliss continues to contribute to the metro's overall growth," the Milken Institute's report notes. "El Paso has remained in the upper echelon in terms of both job creation and wage and salary growth."
Beyond the real estate market, Fort Bliss' expansion has touched other aspects of El Paso's economy by helping it rebound faster than most other cities. From 2008 to 2009, jobs in the metro area grew nearly 2.5 percentage points faster than the national average -- the 17th highest rate in the nation, according to the Milken Institute.
But it's not all a rosy picture for El Paso. Huge challenges remain to attract more high-tech companies, and many residents have yet to see gains from the expanded Fort Bliss.
Last month, Portfolio.com reported that El Paso had the highest per capita income growth over the past quarter century among the nation's 100 largest metropolitan areas. Per capita income, an indicator of individual earning power, surged 147% between 1989 and 2009. And between 2008 and 2009, when the recession took hold of the country, per capita income grew 2%.
That may sound impressive, but the truth is that income in El Paso is growing so fast because they're starting from a much lower base than most cities. Portfolio ranked El Paso 99th with a per capita income of $28,638. The only market to fall below was another Texas city, McAllen-Edinberg, at $19,720.
The military personnel are certainly helping. The average army sergeant with children earns about $44,000 annually, including base pay and housing allowance.
Indeed, Fort Bliss has created some bliss for El Paso. But to really improve its economic competitiveness, it must also create sources of growth beyond Fort Bliss.