IPOs are back: But where the heck is tech?
NEW YORK (CNNMoney.com) -- This is going to be a hectic week for followers of initial public offerings. Ten companies are currently on tap to make their debut.
If you didn't know any better, you'd think it was 1998 all over again -- except for one thing. There aren't any major tech companies on this week's docket.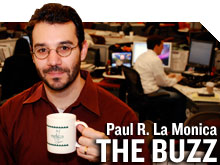 General Motors, of course, is grabbing all the headlines. The automaker is tentatively set to return to the public markets (GM ticker and all) on Thursday.
The government is selling a portion of the stake it acquired in GM as part of its bailout. The hope is that a leaner-and-meaner post-bankruptcy GM will eventually generate a profit -- or at the very least, a smaller loss -- for taxpayers.
But GM is not the only well-known firm that's going to test the public markets. Caesars Entertainment, the casino company formerly known as Harrah's Entertainment, is set to start trading this week too. Ditto for big consulting firm Booz Allen Hamilton and brokerage firm LPL Financial.
But none of those companies are your classic IPO candidates -- hot, rapidly growing upstarts backed by venture capital firms. Instead, Caesars, Booz Allen Hamilton and LPL all count private equity firms as their main investors.
Caesar's, back when it was still known as Harrah's, was bought in 2008 by Apollo Management and TPG. One of the main investors in Booz Allen Hamilton is the Carlyle Group. And LPL is majority-owned by Hellman & Friedman and TPG.
This is an interesting trend that isn't expected to change any time soon. If you look at a list of some of the more high-profile firms that have already filed to go public, you won't find sexy Silicon Valley darlings like Facebook, Twitter, Zynga and LinkedIn.
None of those firms are expected to file for an IPO until next year, at the very earliest. Many think it won't be until 2012 or 2013 that any of social networking's Big Four become publicly traded companies.
Experts say it's a sign of the times. With the economy still merely chugging along as opposed to solidly growing, the best candidates to go public are companies that are turnaround stories, not hot growth stocks.
"Private equity firms buy things out of the rubble, companies that were cold- shouldered by the market. They buy companies on the cheap, clean them up and take them public again," said Ben Holmes, founder of MorningNotes.com, a Boulder, Colo.-based research firm focusing on IPOs and secondary offerings.
GM clearly fits that bill. Just substitute the "Treasury Department" and "taxpayers" for "private equity firms."
Holmes does not expect a comeback in venture-backed tech IPOs until it's clearer that the recovery in the economy is real and sustainable.
Josef Schuster, CEO of IPOX Capital Management, a Chicago-based firm that oversees the Direxion Long-Short IPO Fund, agreed. The price gains for private-equity backed IPOs are likely to be muted in the short-term, since they don't have a lot of immediate growth potential, he added.
"These stocks probably won't pop at the open, but they all look reasonable as investments for the long-run," Schuster said.
The window for venture-backed IPOs hasn't completely slammed shut. But investors looking for more exciting new stocks may have to take risks on smaller companies based outside the United States.
Schuster points out that one of the better-performing recent IPOs is a Chinese company that did have venture backing. Mecox Lane (MCOX), a Shanghai-based online apparel retailer, shot up 57% on its first day of trading late last month.
Sequoia Capital -- the venture capital firm that has invested in Apple (AAPL, Fortune 500), Google (GOOG, Fortune 500), Oracle (ORCL, Fortune 500) and many other successful tech companies -- is one of the investors in Mecox Lane. Sequoia also invested in another recent Chinese IPO, although not in the tech world: It's a backer of vegetable producer Le Gaga (GAGA).
Along those lines, another Chinese venture-backed company is set to go public this week. Schuster said he would not be surprised if it wound up trumping GM as the week's top IPO performer.
BitAuto, a Beijing-based company that provides Chinese consumers with online pricing information about cars, is scheduled to start trading later this week. Venture capital firms DCM and Legend Capital are two of BitAuto's investors.
It may not be the worst thing in the world that the IPO calendar is currently dominated by stodgier companies. It seems investors learned their lesson from the dot-com bubble in 2000: The days of getting rich quick off a tech IPO are long gone.
With that in mind, Holmes said that of all of this week's IPOs, the one to watch is GM.
"GM is important for the psychology of the market. It may be a case of 'as goes GM, so goes stocks' for the rest of the year," he said. "It feels like we really are crawling out of the hole."
- The opinions expressed in this commentary are solely those of Paul R. La Monica. Other than Time Warner, the parent of CNNMoney.com, and Abbott Laboratories, La Monica does not own positions in any individual stocks.