Earmark ban: No effect on spending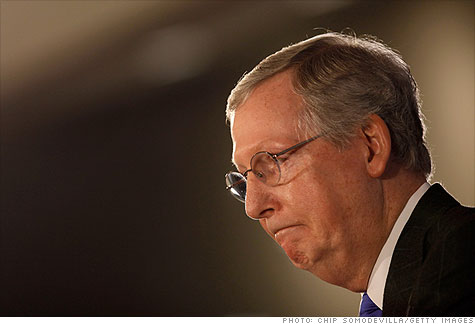 NEW YORK (CNNMoney.com) -- It's pledge week for the GOP when it comes to so-called "wasteful" spending.
With their return to Washington, Republicans in the House and Senate are being asked to vote on whether they support a moratorium on earmarks -- that ambiguously defined term that has nevertheless become synonymous with pork-barrel spending.
But even if supporters win the day, don't expect to see any reductions in spending, wasteful or otherwise. (Update: Earmarks get ax from GOP senators)
There's politics, and then there's budget process.
Earlier this month, Senate Minority Leader Mitch McConnell -- who unexpectedly lent his support to the idea on Monday -- put it rather plainly.
"You could eliminate every congressional earmark and you would save no money," McConnell said during a speech at the Heritage Foundation.
That's because earmarks don't represent extra spending. They represent spending that lawmakers have already approved for federal agencies. And earmarks typically account for less than 1% of the budget.
For the earmark ban to reduce spending, "you have to lower the spending authorizations by the same amount," said Maya MacGuineas, fiscal policy director at the New America Foundation.
Typically, it's up to federal agencies to decide how their money gets doled out to projects in states, cities and counties, and those decisions are made through an application-and-review process.
That is, except when earmarks are involved.
Definitions of earmarks vary widely, and agencies catalogue them differently. But typically an earmark is defined as a slice of agency money that a lawmaker or the president requests be set aside for a specific project.
So earmarks are not subject to the same review process, and they are often slipped into unrelated spending bills at the last minute without most people's knowledge.
The notion that earmarks are "wasteful" bridges to nowhere is misleading. Citizens of a state or city may not view federal dollars earmarked to help them improve their transit system as a waste.
The problem is that the earmark system is based on "political muscle rather than merit," said Steve Ellis, vice president of Taxpayers for Common Sense, a nonpartisan spending watchdog group.
Translation: Senior members of the House and Senate Appropriations Committees typically get the most earmarks.
McConnell equated the Republican move to ban themselves from earmarks as the equivalent of giving the president a "blank check" for determining how money would be spent.
It's about "say-so," he said at Heritage.
Greater transparency
In announcing his support for the earmark ban on Monday, McConnell expressed his own personal conflict on the issue.
"Make no mistake, I know the good that has come from the projects I have helped support throughout my state. I don't apologize for them," McConnell said. "But there is simply no doubt that the abuse of this practice has caused Americans to view it as a symbol of the wasted and the out-of-control spending that every Republican in Washington is determined to fight."
If Republicans in the House and Senate ban themselves from asking for earmarks that may put extra pressure on Democrats to do the same.
President Obama over the weekend reiterated his call for earmark reform. Last year, he specifically called for earmark requests to:
have a legitimate and worthy public purpose;
be revealed in advance on lawmakers' Web sites;
be open to scrutiny at public hearings;
be subject to the same competitive bidding requirements as other federal contracts if the earmark is for a for-profit company; and
never be traded for political favors.
To date, Congress has not formally changed how it handles earmarks, although bills have been introduced that would reform the process, Ellis said.
- CNN congressional producer Ted Barrett contributed to this report.