Facebook unveils new mail system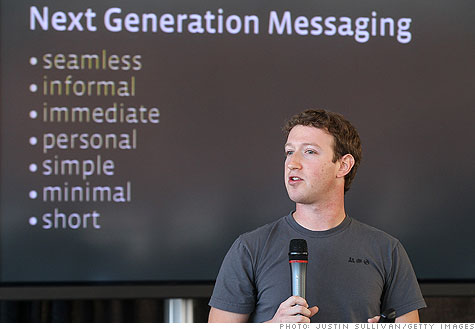 SAN FRANCISCO (CNNMoney.com) -- Facebook is launching a new product barrage aimed at capturing the heart of its 500 million users' digital lives: their inboxes.
Facebook CEO Mark Zuckerberg on Monday unveiled a major overhaul to Facebook's messaging system, which he said currently fields 4 billion messages a day.
"This is not e-mail," Zuckerberg said. "We don't think that a modern messaging system is going to be e-mail."
The new system will roll out gradually over the next few months, he said. It will initially be invite-only, with broader access coming in stages. Users can request access on Facebook's site.

Facebook focused on three priorities: seamless integration across multiple communications channels, a single conversation history, and a "social inbox" for filtering messages.
Every user will be able to snag an @facebook.com e-mail address. As part of the update, Facebook landed the FB.com domain, which now redirects to Facebook.com.

But the new system is modeled more on chat than on traditional e-mail, Facebook Director of Engineering Andrew Bosworth emphasized in a demo showing off the new interface.

There are no subject lines or cc fields. Instead, the system unifies conversations that are happening through SMS, chat, e-mail or Facebook messages. The system also sorts messages, prioritizing notes from close contacts and tossing the remainer into an "Other" folder.

IMAP support is coming soon, Zuckerberg said, and an updated iPhone app is in the works.

Bosworth played up the new system's archival features. Conversations are stored, giving users a complete record of their communications with friends and family.
"People used to have boxes of letters. Where is my box of letters?" he said. "It's locked up in a few phones. It's in several places. Until now."

The fight for your inbox: With its new mail system, Facebook is taking on some deeply entrenched giants in the e-mail space. Microsoft's Hotmail has 361 million users worldwide, and Yahoo is No. 2 with 273 million. Google's Gmail -- which became widely available in 2007, more than a decade after Hotmail launched -- is a distant third, with 193 million users.
But Zuckerberg emphasized that he sees Facebook's role as complementary, not competitive.

"This is not an e-mail killer. This is a messaging system that includes e-mail as one part of it," he said. "We don't expect anyone to wake up tomorrow and say 'I'm going to shut down my Yahoo account or my Gmail account and switch exclusively to Facebook.' But we do expect a shift to more real-time communication.""

According to online data tracker Compete, Yahoo Mail drew 44% of U.S. traffic to Web mail clients in September, with 72.8 million unique visitors. Hotmail landed second place, with 30% market share and 48.5 million visitors. GMail holds 15% of the U.S. market, drawing 25 million monthly visitors.
AOL, which pioneered online e-mail for the masses, has seen its audience dwindle to a comparatively scant 31 million. But the company is taking a fresh run at the challenge. On Monday, it unveiled "Project Phoenix," which aggregates mail from AOL, Google, Yahoo and other systems into one inbox.

It's a refresh AOL can't afford to blow: Mail accounts for 45% of all AOL network pageviews, the company said in its Project Phoenix announcement.