Home Depot tops earnings forecast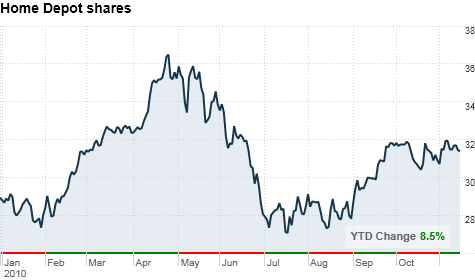 NEW YORK (CNNMoney.com) -- The Home Depot reported better-than-expected third-quarter earnings Tuesday on strong sales, but revised its sales outlook lower for the remainder of the fiscal year.
The home improvement retailer reported earnings of $834 million, or 51 cents a share, for the three months ended Oct. 31, up from $689 million, or 41 cents per share, a year earlier.
Expectations for the company were for earnings per share of 48 cents, according to analysts surveyed by Thomson Reuters.
"The takeaway is that the home improvement market seems to have stabilized," said Michael Lasser, an analyst at Barclays Capital. "The other big takeaway is that they are doing a great job of managing their (profit) margin."
Home Depot (HD, Fortune 500) also lowered its sales expectations for the rest of the fiscal year ending in January, forecasting sales will be up 2.2% for the year instead of the previous estimate of 2.6%. (An earlier version of the story incorrectly stated that the company raised its forecast.)
The retailer faces particular difficulty in the Canadian market due to the expiration of a home improvement tax cut, Lasser said.
While sales expectations were revised lower, the company says it expects earnings per share to total $1.94 for the year, up from the $1.90 projection made in the prior quarter.
"We are exercising good control over our expenses, but we're also investing in the business to drive improvements across customer service, merchandising and our supply chain," said Frank Blake, chairman and CEO of Home Depot.
Sales for the quarter ticked up to $16.6 billion from $16.4 billion last year, an increase of 1.4%.
Shares of Home Depot were little changed in trading before the opening bell.
Berkshire Hathaway, the Omaha, Neb., company run by the billionaire investor Warren Buffett, sold its entire Home Depot stake of 2.8 million shares in the third quarter, according to a filing Monday with the Securities and Exchange Commission.