Apple starts selling Beatles songs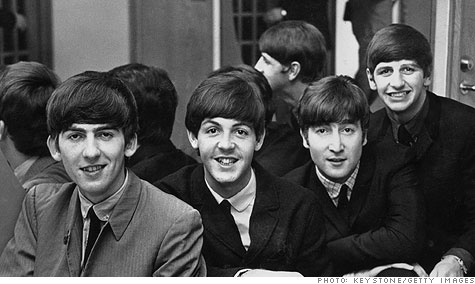 NEW YORK (CNNMoney.com) -- It's been a long and winding road, but Apple finally began selling Beatles songs on iTunes on Tuesday.
Apple (AAPL, Fortune 500) debuted iTunes in 2003, and it quickly became the world's No. 1 seller of digital music. But until now, The Beatles have been one of the last remaining holdouts, choosing instead to sell their music exclusively on CDs, cassette tapes and records.
ITunes customers can now download all 13 of the Beatles remastered studio albums, and the "Red," "Blue" and two-volume "Past Masters" compilations albums. The albums cost either $12.99 or $19.99, and individual songs cost $1.29 each -- the highest end of Apple's per-song price range.
Fans can also download the entire Beatles Box Set for $149.99, which includes a film of the band's "Live at the Washington Coliseum, 1964" concert. Apple and The Beatles are allowing iTunes users to watch that film of the band's first U.S. concert for free throughout the remainder of 2010.
Apple CEO Steve Jobs is said to be a Beatles fan, and has been in negotiations for years with EMI Group, the Beatles' record label, and Apple Corps, the Beatles' business group. But like all other Beatles fans, Jobs had to download tracks from a CD if he wanted to listen to the British band's music on his iPod.
CD sales have plummeted since Napster and then iTunes made their way onto the scene. Sales of music from physical stores was outpaced by iTunes sales in 2005.
But the Beatles have been resilient, remaining one of the most popular purchases throughout the digital music era. Despite their lack of presence on iTunes and other digital music stores, The Beatles' compilation album "1" was the best-selling album of last decade, according to Nielsen Soundscan. And last year, Nielsen said the Beatles were No. 3 in album sales.
The Beatles haven't been the only holdout. AC/DC, Kid Rock and Bob Seger are among the small handful of other notable major artists that don't sell their music on iTunes.
The decision to sell their music on iTunes came after a couple of other un-Beatles-like business decisions in recent years. Late last year, the Beatles allowed technicians to access their original master recordings to remaster all of their music. They also appeared in a video game by Harmonix called Beatles Rock Band.
The band long claimed that the reason its music wasn't on iTunes was that digital music was of inferior quality to CDs and records. But legal issues also may also been a factor. Apple and The Beatles have had a tense relationship for more than three decades.
In 1978, Apple Corps sued Apple Computer for trademark infringement. As part of a settlement reached three years later, Apple Computer agreed not to enter the music business.
Two lawsuits followed over alleged violations of that agreement. One was settled in 1991, with Apple Inc. paying $29 million to end the disagreement. A later fight went to trial, during which a court ruled that iTunes did not violate Apple Computer's agreement with Apple Corps.
Finally, in 2007, the two sides agreed to end their legal spats. Apple Inc. (formerly Apple Computer) took ownership of all trademarks related to the name "Apple" and licensed some of those back to Apple Corps.
The Beatles and Apple did not disclose terms of the latest agreement.
Apple made the announcement about the deal at 10 a.m. ET on its website, apple.com, but users who logged into iTunes could already download Beatles tracks for sale earlier Tuesday morning.