Chevy Volt takes 'Green Car of the Year' award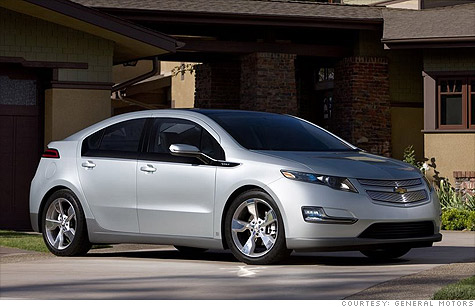 NEW YORK (CNNMoney.com) -- It remains to be seen if the Chevrolet Volt will be a hit with car buyers but it's doing well so far with automotive journalists.
On Thursday, the same day GM's stock began trading on the New York Stock Exchange, the Volt garnered its third major award in a week when it was given the "Green Car of the Year" award at the Los Angeles Auto Show.
On Tuesday, both Motor Trend magazine and Automobile magazine named the Volt their "Car of the Year".
The Green Car of the Year award is presented by the Green Car Journal and is voted on by a panel that, this year, included comedian and car enthusiast Jay Leno, Jean-Michel Cousteau, president of Ocean Futures Society and performance car builder Carrol Shelby.
Finalists this year included the Ford Fiesta, Hyundai Sonata Hybrid, Lincoln MKZ Hybrid and the Nissan LEAF electric car.
"The Green Car of the Year award validates the Chevrolet team's promise to deliver a practical electric vehicle," Joel Ewanick, vice president of marketing for GM, said in a statement.
In an interview Thursday morning, Mark Reuss, president of GM North America, said that, while the Volt might not be profitable for GM in the short term, it represents a step toward gasoline-free driving in the future.
"That car represents a vision," he said, "a glide path toward all those things."
The addition of a gasoline engine to the Volt's electric motors removes worries about driving range that could keep some customers away from electric vehicles like the Nissan Leaf, Green Car Journal said in announcing the award.
"This car would do away with the notion that an electric car must limit our mobility," said Green Car Journal editor Ron Cogan at the award presentation.
The Volt is the first primarily electrically-driven vehicle to take the award, which has been presented each year since 2006. For the past two years, the award was given to diesel-powered vehicles and to gasoline-electric hybrid vehicles every year before that.