A Chinese consumer economy? Don't bet on it yet.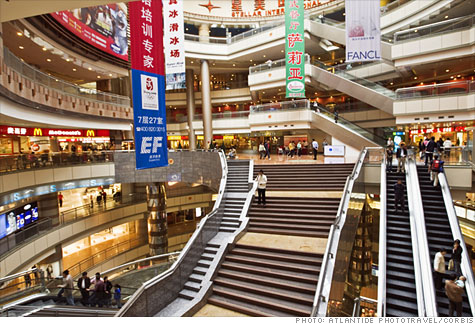 FORTUNE -- "Made in China, for China" has been the rally cry of Chinese economic policymakers for more than five years running. It's a popular refrain, both inside the country and out. While American and European policymakers harp on Beijing's currency policy, they tacitly admit that ramping up domestic consumption is needed just as badly in order to speed the process of rebalancing the global economy.
It wasn't much of a surprise, then, that China's President Hu Jintao turned back to the topic at last week's G-20 summit in Seoul. President Hu presented a long list of measures Beijing plans to implement over the next half decade in the hopes of encouraging Chinese consumers to loosen their purse strings. Among other things, Hu wants to boost credit, improve social safety nets, and facilitate new commercial projects.
The question remains whether the next five years will bring more progress than the last five did. Although the government has established ambitious programs to help fuel consumption, the reality is that this nation of savers is still largely a poor one that's heavily dependent on the wrong industries to help grow wages.
In principle, market dynamics and sheer demographics ought to bring rapid change. In 2009, Chinese private consumption accounted for only 36% of GDP, the lowest percentage of any major economy of the world. A recent report from Goldman Sachs noted that the top 50 retailers in China represent just 5% of global retail sales, compared to the 41% for the top 50 U.S. retailers. Meanwhile, the Chinese economy has been growing at a clip of roughly 10% a year for the last three decades, and the capital rushing into the country has made hundreds of thousands of Chinese wildly rich, and millions more better off.
Macroeconomic factors also compel a shift. China's massive population doesn't spend nearly enough to sustain the country's growth rate, and consumption from the West seems likely to tail off from the torrid, debt-fueled pace it has set in recent decades. That China's growth engine needs to focus more on domestic consumption and less on heavy industry and exports is widely acknowledged by economists both in China and the West.
Attempts to spur spending
To a certain degree, change is already underway. In real terms, Chinese spending has picked up and is growing annually at around 10%. Even before Hu's speech, the Chinese government was already attempting to facilitate this process, spending more on social projects to help build social welfare systems. These safety nets are desperately needed. Most Chinese don't have health insurance, pensions, or unemployment benefits, and the lack of a social backstop has incentivized a savings rate that's more than 50% of GDP, an unprecedented level for a major economy.
The government has launched several other programs as well. Schools in rural areas are getting checks from local governments; national pilot projects for pensions are being tested and rolled out in Beijing. Chinese Vice Premier Li Keqiang, the heir apparent for the premiership in 2012, is touring the Northern Chinese countryside this week, calling for local governments to build low-income housing and asking local hospitals to provide better services to low-income families.
In order to move the process forward, China now needs to undertake the largest structural economic shift the country has seen since it liberalized its markets in the 1970s. The economy, which remains hugely dependent on heavy industry, needs to move away from this focus and toward finance or service sectors jobs and small businesses.
More basically, for consumption to rise in a sustainable way, average Chinese will need to make more a lot more money. "The distribution of income in China is massively skewed towards corporations at the expense of wages," says Frederic Neumann, co-head of Asian economics research at HSBC. Wages have been repressed for decades so China could dangle cheap labor in front of foreign companies. The attendant export surge allowed it to become globally competitive.
Now, the country's state-owned manufacturing enterprises build and sell, but excess profits rarely line workers' sooty pockets. In fact, as the wage strikes this year have illustrated, none of the workers even have representation inside the factories. The difficulties of starting a small business or breaking into entrenched industries further complicate this dynamic. Although the labor strikes captured the world's attention, thirty years of wage growth repression in China cannot be undone overnight.
Larry Summers, speaking at a conference in Washington earlier this week, made some fairly grand comments about China. "I think that when somebody writes the history of our time 50 or 100 years from now, it's unlikely to be about the great recession of 2008," Summers said. Rather, "it will be about how the world adjusted to movement of the theater of history towards China."
This may prove to be the case, but the speed at which this shift occurs will have very much to do with how quickly China can morph into a more balanced economy with developed domestic consumer markets. Until that happens, the country will forever be exposed to economic fluctuations in the West -- and as we have seen over the past few years, these fluctuations can be quite extreme.