Dell's profit grows, but sales come up short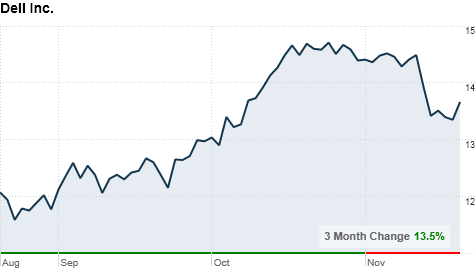 NEW YORK (CNNMoney.com) -- Dell Inc. reported that booming sales to businesses sharply lifted its profit last quarter, even as consumer sales disappointed.
Sales to large corporate customers soared 27% during the quarter, public sector revenue rose 20% and small- and medium-sized business sales were up 24%. Dell said profit in its SMB division hit an all-time high.
It's not surprising that Dell's sales were sharply higher compared to last year. About 80% of Dell's sales come from enterprise customers, which have finally begun refreshing their old PCs and servers after holding off on buying new hardware during the recession.
Desktop PC sales rose 21% and servers were up 20%.
But sales of Dell's consumer products rose just 4%, and operating income was break-even in the quarter, thanks to still-timid shoppers.
"We're seeing weakness in consumer demand, and we'll continue to manage that," Chief Financial Officer Brian Gladden said on a conference call with the press. "We're improving profit in our consumer business, which is something we've been focused on."
The company has struggled in its with consumer sales in the past few years, and mobile has been a particular weak point.
Dell announced Wednesday that Ron Garriques, the head of the company's mobile division, is resigning, and its communications unit will be disbanded. Gladden said the move gave the company an opportunity to bring its mobile business into the "core of the company."
By the numbers
The Round Rock, Texas, company said net income for the third quarter, ended Oct. 30, rose to $822 million, or 42 cents per share. That's up 144% from a year earlier.
Results included a one-time charge of 3 cents per share. Without the charge, Dell said it earned 45 cents per share. Analysts polled by Thomson Reuters, who typically exclude one-time items from their estimates, forecasted earnings of 32 cents per share.
Sales rose 19% to $15.4 billion, but the results missed analysts' forecasts of $15.8 billion.
"Dell is growing in the right areas, and I'm very excited about our momentum," CEO Michael Dell said in a prepared statement.
The company reaffirmed its forecast for full-year revenue growth of 14% to 19%, which is echoed by analysts' consensus expectation of an 18% rise in sales.
Shares of Dell (DELL, Fortune 500) rose 6% after hours.
Rival Hewlett-Packard (HPQ, Fortune 500) is expected to report its earnings on Monday.