Chevy Volt confronts one final glitch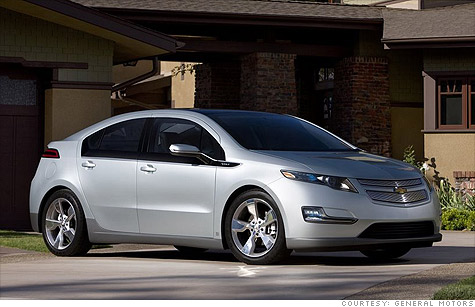 NEW YORK (CNNMoney.com) -- General Motors has begun commercial production of the Chevrolet Volt, producing cars at the automaker's Detroit plant that are intended for sale or lease to consumers.
But there's one final problem, one that's been dragging on for years, that still needs to get cleared up.
It's illegal to sell new cars in the United States without an EPA fuel economy label -- and the government still hasn't figured out how to measure the Volt's fuel economy. That means no fuel economy label and that means GM dealers still can't start selling the cars.
"We're having good discussions with them," GM spokesman Nick Richards said of the company's continuing work with the EPA.
GM is confident the problem will be resolved by mid-December, Richards said, so the automaker can stick to its plan to begin Volt sales by the end of the year.
CNNMoney.com first wrote about this issue in September 2008. At that time, discussions between GM and the EPA had already been going on for some time.
In August 2009, GM held a press conference at its Detroit headquarters announcing that, based on a preliminary formula for measuring the car's fuel economy, the Volt was expected to get an EPA-estimated 230 miles per gallon.
The issue of fuel economy for the Volt is complicated because any estimate is unlikely to come close what individual users actually experience. That's because, unlike most cars -- including today's hybrids -- the Volt's fuel economy will vary enormously depending on how far the car is driven between charges.
For example, a recent test drive of about 230 miles from Washington, D.C., to New York City showed the Volt getting about 37 miles per gallon.
However, if the trip had been a typical round trip commute of less than 40 miles the car would have burned no gasoline at all. In other words, it would have gotten infinite miles per gallon.
For trips in between when only a little bit of gasoline might be burned -- trips of 50, 60 or 150 miles -- the car's actual fuel economy could be anything from thousands of miles per gallon down to the 35 or 40 mpg the Volt seems to get if its battery isn't charged at all.
A spokeswoman for the EPA would not comment on the matter beyond confirming that GM cannot begin selling the Volt until this issue has been resolved.