Oprah gives away 275 New Beetles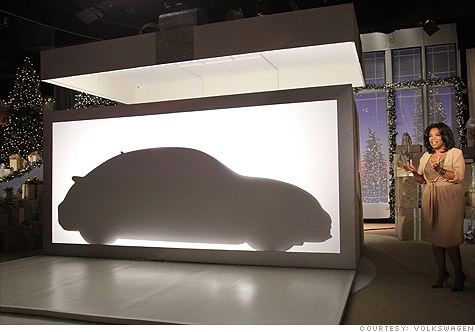 NEW YORK (CNNMoney.com) -- TV host Oprah Winfrey gave her studio audience 275 Volkswagen New Beetles Monday as part of "Oprah's Favorite Things" promotion.
Unfortunately, her audience members can't get their cars yet because Winfrey gave them 2012 New Beetles. That new version of the iconic curvy little car has yet to be revealed to the public.
The car is expected to debut in the spring of 2011 and will go on sale the following fall, according to VW. Pricing for the car has also not been announced.
On the show, Winfrey showed only a silhouette of the new New Beetle. The new version is expected to be more performance-oriented than the current New Beetle.
Winfrey owns and drives a New Beetle and approached the automaker to arrange giving away the cars on her show, VW said in an announcement.
In 2004, Winfrey gave 276 Pontiac G6 cars to her audience. That time audience members were able to go out to the parking lot and inspect their cars immediately.
Volkswagen donated all the cars, plus money to cover taxes and fees for all of the audience members, the automaker said.