J. Crew agrees to buyout, stock surges 16%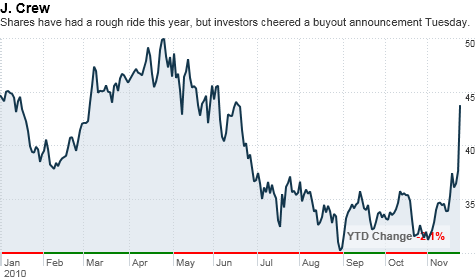 NEW YORK (CNNMoney.com) -- J. Crew Group Inc. agreed Tuesday to be acquired by two private equity firms in a $3 billion deal, sending the retailer's stock surging.
TPG Capital and Leonard Green & Partners will pay $43.50 a share in cash, according to a statement from J. Crew. That marks a premium of 29% to the retailer's closing share price over the past month.
"This removes them from the public eye and gives them a chance to readjust," said Brian Sozzi, equity research analyst at Wall Street Strategies. "It will allow them to expand more aggressively, take a more pragmatic approach to opening more stores in the U.S., and might give them the balance sheet to expand internationally."
J. Crew (JCG) shares jumped more than 16% on the news, after being halted ahead of the announcement. Shares of J. Crew had been down nearly 16% this year before the news, but Tuesday's rally trimmed that decline to 2%.
"We are in this for the long term, and we do what we do day in and day out so we can deliver the best possible products to our customers," said Millard 'Mickey' Drexler, who will remain J.Crew's CEO, in a statement. He added that working with the private equity firms, "will enable us to invest in our future growth."
Simultaneously, the company posted third-quarter sales of $429 million, missing expectations. It also lowered its fiscal year earnings-per-share outlook.
"Needless to say, we are disappointed with our results and our fourth-quarter outlook," Drexler said on a conference call Tuesday.
Drexler -- who grew Gap (GPS, Fortune 500) into a $14-billion industry leader before heading to J. Crew -- is credited with revitalizing the J. Crew brand, and said he believes the current slump in performance is a "short-term hurdle."
He added that weakness has been mainly concentrated in women's retail, and results have been pressured by raw material costs and wages.
"It really drills down to the women's assortment," Sozzi said. "It's just a little off trend from what we've seen in the past and items have gotten a little pricier, which might be causing consumers to look elsewhere in the mall."
It's been a tough couple of years for retailers overall, and J. Crew is no exception. Sales have rebounded this year, but it's still a tough economy for consumers.
But as private equity firms bet on a rebound in consumer spending, Sozzi said he wouldn't be surprised to see an increasing number of acquisitions in the retail space.
"I've been waiting for private equity to go more aggressively into retail," said Sozzi. "With consumers starting to show greater willingness to spend, and acquisitions like this allowing a retailer to readjust and put more expenses behind their growth, I think you will see more deals in retail."