Initial unemployment claims: Lowest since July 2008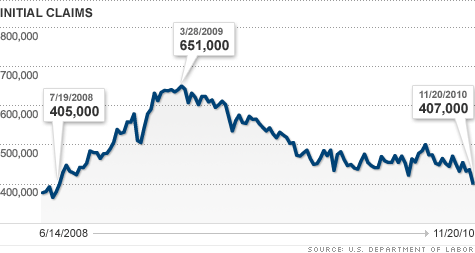 NEW YORK (CNNMoney.com) -- The government's weekly jobs report brought a bit of good news Wednesday, as the number of Americans filing for their first week of unemployment benefits sunk to its lowest level in more than two years.
The number of initial claims fell to 407,000 last week, down 34,000 from 441,000 claims filed the week before, the Labor Department said Wednesday -- far better than economists had expected.
"For the 80% of America that is participating in this recovery, it's time to take out the champagne and have a very nice holiday, because things are improving," said John Silvia, Wells Fargo chief economist.
Economists surveyed by Briefing.com had expected initial claims to rise slightly to 442,000.
The weekly measure has been stuck in a rut since last year, hovering in the mid to upper 400,000s and even ticking slightly above 500,000 in mid-August. Economists usually say the number needs to drop below 400,000 before the stubbornly high unemployment rate -- which currently stands at 9.6% -- can drop significantly.
A number as low as 407,000 is as close to that level that the data has gotten since July 2008, when there were 405,000 initial claims.
"The level is getting close to breaking the 400,000 barrier, and that's a breakthrough in terms of the trend," Silvia said.
Silvia also rules out the idea that the report could be just an upbeat blip in the data. For four of the last five weeks, the number has stayed below 440,000, and many economists are taking that as a sign that the job market is showing consistent improvement.
The four-week moving average, calculated to smooth out volatility, totaled 436,000, down from the previous week's revised average of 443,500.
Silvia also said Wednesday's data is positive enough to cause economists to significantly raise their estimates for the government's closely-watched monthly jobs report, due out next Friday.
The report showed the U.S. economy created 151,000 jobs in October, and economists are hoping even more were created in November.
The number of people continuing to file unemployment claims for a second week or more fell to 4,182,000 during the week ended Nov. 13, the most recent data available. That's down a whopping 142,000 from a revised 4,324,000 the week before, and the first time in two years that the number has slipped below the 4.2 million mark.
The report comes a day after Federal Reserve officials offered little hope for the job market going forward. The central bank said the unemployment rate will likely remain high between 8.9% to 9.1% in 2011.