Giving thanks, Web 2.0 style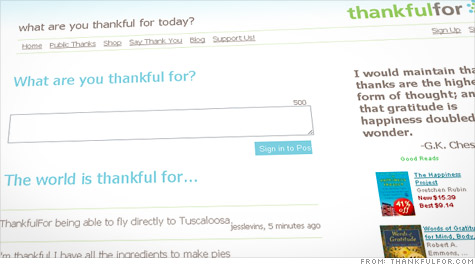 NEW YORK (CNNMoney.com) -- Feeling warm and fuzzy? It's that season again and the startup scene is buzzing with tidings of joy.
If the turkey talk and "It's a Wonderful Life" reruns are making you sentimental, here are a couple feel good startups to kick off the holiday season. Even venture capitalist Fred Wilson, who pours lots of money into promising startups, has got charity on the agenda this holiday season.
Shout out your gratitude Some tech enthusiasts are taking the Thanksgiving dinner "thankful for" conversation online. Launched in 2009, Thankfulfor.com allows users to create an online documentation of their gratitude.
Users post what they're thankful for and read what others are thankful for. They can also link their accounts to Twitter. A real time public wall on the site displays thanks for everything from warm socks to old friends.
Cofounders Frank Gruber and Jen Consalvo, both previously product managers at AOL (AOL), created the online community as a place for people to share and collect their thoughts. The site also sells books, cards, and treats dedicated to saying "thank you."
Consalvo said the company wanted to create a site that people could go to regardless of their religious beliefs.
"When you find things about gratitude, they're very spiritual or religious ... we thought maybe we should create a space that's contemporary and welcoming to anyone," Consalvo said.
The site is also currently in the process of creating an iPhone and Android app. Ultimately, Consalvo said the company hopes that allowing people an easy way to document what they are thankful for will keep users coming back to the site.
"If you start it now, in a year you'll look back at a years worth of things you're thankful for and that's pretty powerful," she said.
Volunteering with value When it comes to volunteering, the opportunities are out there, but sometimes the right ones are tough to find. Catchafire.org is one of the latest startups making a splash in the charitable realm. The organization looks to match skilled volunteers with non-profits.
The angel-backed startup offers a business approach to volunteering. The idea: charge non-profits a fee to match them with skilled volunteers that will address their specific needs. By doing so, CEO Rachael Chong hopes to make the experience more meaningful to the volunteer while adding value to their work.
The company has matched everyone from marketing experts who have helped non-profits expand their brands to copywriters who help non-profits build their communication skills.
"We're matching what people do in their day-to-day lives with the opportunity to apply those amazing skills to a non-profit that truly needs it," Chong said.
Previously an investment banker at Goldman Sachs (GS, Fortune 500) and UBS (UBS), Chong said her days volunteering with those companies gave her insight into a better way to volunteer and make a difference.
While working on Wall Street, Chong said she spent six months trying to find a non-profit that could take advantage of her investment skills. After leaving investment banking behind, Chong devoted her time to building a startup that would give volunteers a lasting impact and keep them coming back.
Since launching in September, Catchafire has over 4,000 volunteers and 600 non-profits on board.
Give a little For those looking to give back, DonorsChoose.org is winning the hearts of everyone from Oprah to venture capitalist Fred Wilson. The charity connects classrooms in need of materials with people looking to donate money.
Supported by a roster of Silicon Valley investors, DonorsChoose.org has expanded in the past five years. More than 4 million students have benefited from the group-funded donations.
"The tech community has been really good to us," chief technology officer Oliver Hurst-Hiller said.
On the site, public school teachers around the country post ideas for projects they can't afford. The project description highlights the classroom's wish list, everything from calculators to musical instruments, and users decide which projects to support through donations.
Wilson, who became a board member after encouraging his readers for two years to donate using the site, has promoted DonorsChoose throughout November. On his blog, he's urging his tech following to help raise money for projects encouraging math and science for young women.
"I am excited to be doing something real and tangible for young women to get them prepared for the world we live in," he writes on the blog.
To date, the New York based VC has raised over $74,000 for various projects, reaching over 19,000 students around the country.