Next up: Cyber Monday, e-tailers' big day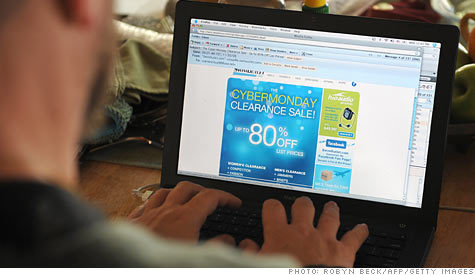 NEW YORK (CNNMoney.com) -- Online sellers kick off the coming week with one of their biggest sales days of the year - Cyber Monday.
E-tailers consider it their version of Black Friday. It is the day that Web merchants furiously push big discounts, free gift cards, free shipping and any other gimmick they can think of to entice consumers to spend even more of their holiday shopping dollars online.
If pre-Black Friday sales are an indication, consumers are shopping more enthusiastically both in stores and online.
Online payment service Paypal said Friday it saw a 25% increase in payment volume on Thanksgiving Day this year versus last year. PayPal also noted a 297% jump in mobile payment volume on Thanksgiving Day versus last year.
The National Retail Federation estimates that Cyber Monday deals will be much more aggressive this year.
The group said 88% of retailers will have a special promotion for Cyber Monday this year, up from 72% in 2007.
But since Monday is a working day, many consumers will try to sneak in some shopping while at work.
According to the NRF, 54.5% of workers with Internet access, or 70.1 million people, will shop for holiday gifts from the office, with the majority of those being men and young adults.
ComScore, a digital marketplace research firm, expects online sales for the 2010 holiday season will reach $32.4 billion, marking an 11% increase over the previous year for the combined November-December gift-buying period.
Sales for that two-month period rose 4% over the prior year, the firm said.
"The beginning of the online holiday shopping season has gotten off to an extremely positive start, outperforming our earlier expectations," ComScore chairman Gian Fulgoni said in a statement.
"Despite continued high unemployment rates and other economic concerns, consumers seem to be more willing to open up their wallets," he said, adding that deep sales have spurred much of that spending momentum.

Black Friday: It's busy out there!