Why China is an energy consumption hog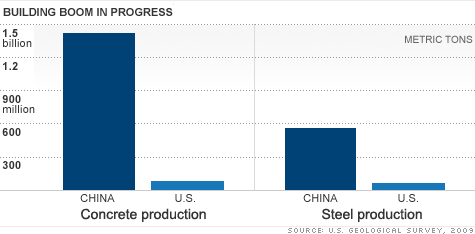 NEW YORK (CNNMoney.com) -- Over the next 15 years China is expected to build the equivalent of New York City -- 10 times over.
That's a lot of concrete and steel, and it goes a long way to explaining why the country is using so much energy.
Roads, bridges, rail lines, skyscrapers and factories take tons of concrete, steel, chemicals and glass.
"They are building massive amounts of infrastructure," said Lynn Price, a scientist in the China Energy Group at Lawrence Berkeley National Laboratory, a U.S. Department of Energy research lab. "It takes incredible amounts of these energy-intensive commodities."
Earlier this year, the International Energy Agency said China surpassed the United States to become the world's largest consumer of energy. The news was somewhat surprising.
While China does have four times as many people, its economy is only a third the size. So where is all that energy going?
Statistics from the DOE show it is China's industrial production, not its 1.3 billion people, that is using all this fuel. Sure, the Chinese are driving more cars and using more electricity but that's a drop in the bucket, relatively speaking.
China's industrial sector accounts for over 70% of its total energy consumption. Meanwhile, the U.S. industrial sector accounts for just 33% of its energy consumption.
The efficiency gap
Yet the sheer volume of heavy industrial activity isn't the only thing accounting for China's massive energy appetite.
China's factories, especially its steel plants, are often less efficient than their counterparts in the developed world.
Broad comparisons are difficult, and China's numerous factories built in the last 10 or 15 years are often just as efficient as anything built in the West or Japan.
But when it comes to steel, the Chinese use a different technology than that used in the United States, the result of having to use more iron ore and less recycled steel in the manufacturing process.
"China's facilities are still less efficient than those of the U.S.," said Michael Renner, a researcher at Worldwatch, an environmental research outfit. "The government has been trying to close and phase out the least efficient ones."
The phase out has sometimes been ham-handed.
Reports this summer indicated government officials simply cut off power to inefficient factories in an attempt to meet an energy reduction pledge. In some cases, the the power outages extended into residential areas.
"We didn't think that was the right way to do it," said Mona Yew, a Beijing-based efficiency expert at the Natural Resources Defense Council.
Yew did give the Chinese government credit for recently enacting a variety of incentives to encourage efficiency, including tax breaks for companies that specialize in energy management and nationwide efficiency targets, something the United States does not have.
Chinese officials have even indicated they may enact a nationwide cap-and- trade program -- an ambitious plan to cut energy use and promote renewables that recently failed to pass the U.S. Congress.
"They've gotten past the awareness stage," said Yew. "Actually having the ability to do it is the next step."