Obama calls for federal wage freeze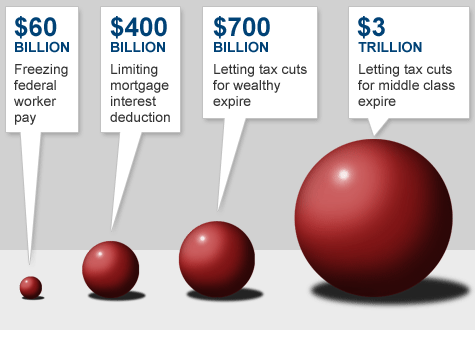 NEW YORK (CNNMoney.com) -- President Obama on Monday called for a two-year freeze in the wages of federal employees.
The freeze, which would need congressional approval and save $60 billion over 10 years, would make a small dent in the nation's debt problem. Budget experts say nearly $6 trillion in deficit reduction is needed to stabize the debt, so the new proposal achieves less than 1% of what's ultimately needed.
Still, it's an important step to help generate taxpayer support at a time when policymakers will need to make numerous difficult decisions about curbing the debt, one fiscal expert said.
"It's a real money issue and a psychological first step," said Maya MacGuineas, fiscal policy director at the New America Foundation. (Obama's debt panel nears final report)
Debt in focus: Obama's proposal comes at the start of a critical week on the debt issue. The president will meet Tuesday with congressional leaders of both parties and a bipartisan deficit commission he set up earlier this year is set to make final recommendations on Wednesday.
"The hard truth is that getting this deficit under control is going to require some broad sacrifice," Obama said. "And that sacrifice must be shared by the employees of the federal government."
According to the administration, the two-year pay freeze would save $2 billion for the remainder of fiscal year 2011 and $28 billion over the next five years.
The freeze would not apply to military personnel, but would apply to all civilian federal employees, including those working at the Department of Defense. Approximately 2 million federal workers will be affected, according to the Office of Management and Budget.
Federal workers shouldn't feel singled out: The White House says more tough choices are on the way.
"This freeze is not to punish federal workers or to disrespect the work that they do," the White House said in a statement. "It is the first of many actions we will take in the upcoming budget to put our nation on sound fiscal footing -- which will ask for some sacrifice from us all."
According to a recent CNN/Opinion Research Corp. poll, 68% of Americans say reducing the deficit is more important than avoiding cuts in salary and benefits for federal workers.
In the same poll, Americans said that avoiding significant spending cuts to Social Security, Medicare, Medicaid, college loans, aid to farmers and unemployed workers is more important than reducing the deficit.
Next steps: On Capitol Hill, Obama's proposal is likely to pick up support on the other side of the aisle.
Republicans have argued in favor of a freeze in recent weeks, and the co-chairmen of Obama's bipartisan deficit commission made a similar recommendation earlier this month.
"It's a great start. I'll applaud when he [Obama] does the right thing, and he did in this case," said Rep. Jason Chaffetz, a Utah Republican and the presumptive chairman of the House subcommittee on federal workers. "I'd like to see things go further. Personally, I would like to see the overall payroll cut by 10%."
At the same time, the proposal was criticized by a key lawmaker of Obama's own party. Rep. Steny Hoyer of Maryland said the president's freeze should be extended to more military personnel although not those actively serving in combat.
The National Federation of Federal Employees, which represents 110,000 workers, immediately came out against the proposal.
"We understand that sacrifices will have to be made in order to reduce our nation's growing budget deficit, but we believe doing so at the expense of dedicated civil service employees is a misguided approach," President William Dougan said in a statement.
Monday's announcement is not the first time government employees have faced cuts during the Obama administration. During his first year in office, he froze the salaries of top White House officials and proposed to do so for other top political appointees. He also eliminated bonuses for all political appointees.
-- CNNMoney senior writer Jeanne Sahadi contributed to this report.