A father-and-son detective duo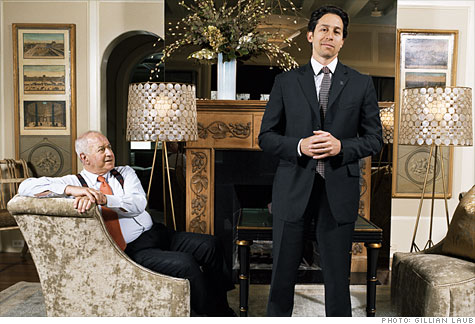 FORTUNE -- Jeremy Kroll's first assignment as a corporate investigator 15 years ago was to read John Grisham's bestseller The Firm and try to determine whether real-life whistleblower Mark Whitacre had acted out a delusional version of Grisham's plot while stealing from his employer, Archer Daniels Midland (ADM, Fortune 500). Apparently, he really had. Kroll says he was hooked from the get-go. Can you blame him?
Today, Kroll is still chasing colorful characters and dirty money. His year-old firm, K2 Global Consulting, does investigative work on three continents. Much of K2's work is under the radar, and that's how clients tend to like it. But in mid-November, the U.S. Attorney's office in New York's Southern District announced 17 arrests related to the theft of $42.5 million from the Conference on Jewish Material Claims Against Germany, an organization set up to compensate Jewish victims of the Holocaust. That same day, the Conference announced that it had retained K2 Global to study the thefts, chase down stolen assets, and help right the ship. "We are pleased to lend our expertise in this sensitive and important matter," says Kroll, 39.
Jeremy's father, Jules Kroll, practically invented the modern corporate investigations industry, building his eponymous firm, Kroll Inc., over a span of three decades. Jeremy made his investigative bones at Kroll and now heads K2 Global. Now they're putting the word out about the second coming of Kroll. But it's a Kroll for the 21st century: less gumshoe, more information technology, an investigative firm for the modern, outsourced era.
New name, same reputation
At a cocktail party celebrating K2's first anniversary in early November, Jules Kroll cracked wise with the assembled crowd. "You know, we couldn't put our name on K2," he said, "because we sold that name." Most of the laughing guests probably knew that Jules had walked away with $117 million when he sold Kroll Inc. to insurance giant Marsh & McLennan for $1.9 billion in 2004. If he harbors any regrets about selling, they are probably not financial.
In the corporate investigation business, the name of your firm is less important than your reputation, your skills, and your network, three things father and son took along with them when they co-founded K2 in late 2009 along with partners Charles Carr and Bruce Goslin. Jules is chairman of the new entity, and Jeremy is chief executive. (They also launched Kroll Bond Ratings, a new agency that aims to inject investigative techniques into the bond-rating business.)
Rick Simonson, the former chief financial officer of Nokia (NOK), hired Kroll Inc. to help track down billions of dollars that members of the Uzan family stole from Nokia and Motorola (MOT, Fortune 500) in Turkey in the 1990s. While still at Nokia, Simonson engaged K2 to investigate a potential Russian business partner. "I went with K2 based on the individuals, the integrity, and the relationship we had," Simonson says.
K2 is truly a global operation: It has close to 30 employees at offices in New York, London, Madrid, and Bahrain. The Krolls sold 40% of K2 Global Consulting and Kroll Bond Ratings in exchange for $24 million from outside investors, including former American Express (AXP, Fortune 500) CEO Jim Robinson III and value investor Michael Price, who once owned a significant stake in Kroll Inc. VC players Bessemer Venture Partners and RRE Ventures also joined K2's initial funding rounds. (The Krolls kicked in $5 million of their own.) And even though they're competing with much larger companies -- from the Big Four accounting firms to Kroll Inc. -- they seem excited at the chance to start from scratch.
Both Krolls refer to K2 as a "restart" as opposed to a startup and emphasize that they're not trying to build another Kroll Inc. Instead they're focusing on technologies that could help them create an entirely new kind of investigations firm. And that's where Jeremy comes in.
"He wouldn't think of it in these terms, but Jules built the first expert network for intelligence, investigative, and research professionals 35 years ago," says his son. Jeremy is currently building a social network in the modern, technological sense of the term.
Instead of putting German forensic accountants and Indian lawyers on the payroll, Jeremy wants to hook them into this private network, called K2N, and tap into their expertise on an as-needed basis. "We will be able to identify these experts and have them vetted and ranked in ways that just weren't available to Jules back in the day," says Jeremy.
Jeremy's other incubating project, K2O, deals with online identity verification. "The Facebook idea that you are who your network says you are is only partly true," he says, "because when you go outside your first- or second-order relationships, it still gets pretty hairy. In the physical world, this is where the notary public used to kick in -- to allow you to do business in the county next door. What we're trying to do with K2O is to create the authentication standard for reputation online."
Jeremy has also been researching fraud in the emerging realm of carbon credits -- tradable certificates for the right to emit carbon dioxide. And he's blogging. Yes, you read that right: a private investigator who blogs about his methods under the rubric The Discreet Science on the K2 website.
Jules seems happy to stand back and watch his son go. "When you're 69 years old, you may have a groove swing, but another definition of a groove swing is being stuck in a rut," he says. "I don't think my level of creativity is anywhere near where it was when I was Jeremy's age, and he's living in a world of ideas that is frankly more modern than the one that I'm living in." That world is populated by people a lot younger than Jules Kroll, including the likes of Josh Spear, the 26-year-old founder of digital strategy firm Undercurrent, who has been working with Jeremy on K2O. "They're making a strong commitment to the way that digital technology is changing their game," says Spear.
From father to son
Jeremy Kroll never planned to follow in his father's footsteps. After studying Romance languages and fine arts at Georgetown, he worked briefly as a Hollywood production assistant, cleaning toilets for mogul David Geffen. He quit in 1995 and took a part-time gig with his father's firm, doing grunt jobs like hunting down court documents. He liked the work enough to join Kroll full-time, which meant opening the Pandora's box of being the boss's son. (And a famous guy's son, at that: At this point, Jules Kroll was already legendary for hunting down the hidden assets of Ferdinand and Imelda Marcos, Haiti's "Baby Doc" Duvalier, and Saddam Hussein.)
Jeremy rose through the ranks, working successively as a field investigator, in-house analyst, and sales rep. (By design, he never reported directly to Jules.) High-profile trial lawyer Marshall Grossman, now a partner at Bingham McCutchen, recalls having the younger Kroll work for him during some high-stakes litigation on behalf of Tommy Hilfiger in the late '90s. "He performed like someone with 20 years of experience," says Grossman. Jeremy later became general manager of the information security group of Kroll Inc., where he pushed the firm to embrace information technology, just as he's now doing at K2. He wound up overseeing worldwide business development and strategy for Kroll's consulting investigations division.
Jeremy is the oldest of four siblings. His two sisters also worked at Kroll for a time, but brother Nick took a different route: He's a comic actor whose credits include the voice of Stu on HBO's cult hit The Life and Times of Tim and a scene-stealing cameo in the film Get Him to the Greek. "What continues to impress me about Jeremy is that my ego would not have allowed me to go work in an industry that my father ostensibly created," says Nick. "He has had to walk around being known as Jules Kroll's son. You need incredible confidence and sense of self to be able to do that."
Because of the nature of their business -- which tends to involve big money, big disputes, and occasionally shady characters -- the Krolls have at times been accused of crossing the same legal or ethical lines as the subjects of their investigations. Sometimes, too, they find that they've engaged the wrong kind of client.
Take Allen R. Stanford, the formerly highflying financier who now stands accused of running an $8 billion Ponzi scheme. In April 2007, an electricians union with investments in the Stanford Financial Group engaged Kroll Inc. to investigate Stanford's operation. Kroll's investigators gave Stanford a clean bill of health. There was just one small problem. In a Florida lawsuit filed after Stanford's empire collapsed, the union claimed that the investigators had failed to mention that Stanford was also a Kroll client.
"We did reveal the relationship to the union," says Jules, "even if they denied that fact. And while I can't defend the fact that we didn't know we were working for someone who was behaving allegedly improperly, take any major professional services firm -- we've all represented people where we got it wrong." Jeremy Kroll makes a similar point: "There is always a certain portion of the population that doesn't use their head. Even in our organization."
The two men share certain traits, including a tendency to use the word "trust" a lot. But those who know the two say Jeremy is more sensitive and quieter than his father. And while he's come to terms with being Jules Kroll's son, he also sees his own path. "He's a pioneer," Jeremy says of his father. "I will never be considered the founding father of an industry, and I'm okay with that. But I'm not him. I look at K2 as an opportunity to incorporate 21st-century dimensions into managing and mitigating risk. That's fertile ground to create something I can be proud of."