After summit, Obama and GOP still far apart on tax cuts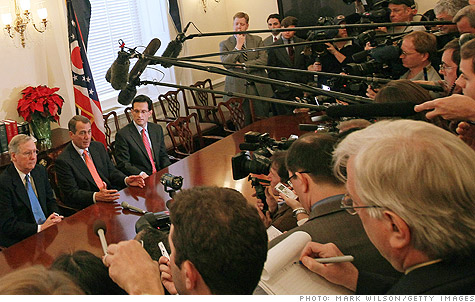 NEW YORK (CNNMoney.com) -- The Obama administration and congressional leaders have begun talks toward a deal on extending Bush-era tax cuts, President Obama said after a meeting with representatives of both parties Tuesday.
"That process is beginning right away, and we expect to get some answers back in the next couple of days," Obama said after Tuesday's meeting at the White House.
But he cautioned that both parties still have deep disagreements, even as they attempt to find "sensible common ground" on the tax provisions, which are set to expire at the end of the year.
At the very least, both parties want to ensure that the tax cuts are preserved for lower- and middle-income families. But that's about the only thing they agree on at the moment. Republicans want to extend the cuts for everyone, including the nation's top earners.
If no tax-cut extension is approved by Dec. 31, everyone's federal income and investment tax rates would go back up to where they were before the 2001 tax cuts were passed.
Even if Congress does reach a last-minute compromise, the longer lawmakers wait, the less likely it is that employers will be able to adjust their payroll systems.
Why a deal looks doubtful: Expectations that an agreement would be reached Tuesday were low, and the lack of progress on the issue underscores fears that Americans' paychecks will shrink come Jan. 1.
The pessimism stems, in part, from the inflexible rhetoric that surrounds the debate.
Before meeting with Obama today, Senate Minority Leader Mitch McConnell made it clear again that Republicans are not looking to compromise.
"How about we start with this?" McConnell said. "No tax hikes on anybody. No tax hikes on anybody, period."
And President Obama has not backed off his long-stated position that the tax cut should be allowed to lapse on family income above $250,000.
"I believe and the other Democrats in the room believe that this would add an additional $700 billion to our debt in the next ten years," Obama said Tuesday after the meeting. "I continue to believe that it would be unwise and unfair, particularly at a time when we are contemplating deep budget cuts that would require broad sacrifice."
The inflexibility on both sides has not softened following a midterm election in which Republicans swept to power in the House and gained seats in the Senate.
Those new lawmakers won't be sworn in until January, which leaves Democrats with only the remaining weeks of an already jam-packed lame-duck legislative session to push through a tax cut extension.
The president made his own bid to expand that already busy schedule, saying he had encouraged lawmakers from both parties to extend other middle class tax cuts that are set to expire at the end of the year. On the list are the Making Work Pay tax credit, a tax credit for college tuition, and a tax cut for businesses that hire unemployed workers.
Next steps: There was some concrete action as a result of Tuesday's meeting. Both Obama and Republican leaders said they are optimistic that the working group of lawmakers, Treasury Department and Office of Management and Budget officials will yield results.
Obama is also considering at least a short delay to the start of his Hawaiian vacation to work on the tax cut issue.
Two senior administration officials told CNN that the White House has been getting signals that the lame-duck session could drag on past Dec. 18, when the president is scheduled to depart for Hawaii.
Obama has privately said he is willing to stay in Washington until Christmas Eve if necessary to finish the contentious debate over taxes, the officials said.
-CNN's Tom Cohen and Ed Henry contributed to this report.