Tylenol plant still plagued by FDA violations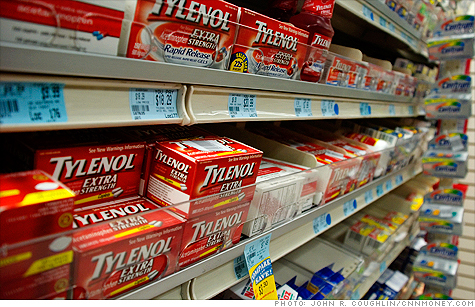 NEW YORK (CNNMoney.com) -- Nearly a year after the Food and Drug Administration ordered Johnson & Johnson's drug-making arm to get its act together, FDA inspectors continue to find problems.
Forty-nine consumer complaints of product mix-ups were made to Johnson & Johnson's McNeil Consumer Healthcare unit between January and September 2010, the FDA noted in a recent inspection report of a McNeil's drugmaking facility in Puerto Rico.
The report lists eight violations in the last month covered alone.
Among the violations: inadequate quality controls; lack of safeguards to isolate "rejected" raw materials and drugs; and human error resulting in product mix-ups.
This Puerto Rico plant was the source of millions of adult Tylenol, Motrin and Benadryl drugs that were recalled in late 2009, in January 2010, and again in July over concerns of a moldy, musty odor.
"It appears that the company has failed to correct certain quality control and procedural problems documented in prior inspections and cited in a January 2010 warning letter to the company," FDA spokesman Christopher Kelly said in an e-mail to CNNMoney.
McNeil has been plagued with a plethora of problems this year that have sullied the once pristine reputation of its parent.
"Johnson & Johnson is under intense FDA scrutiny. For McNeil to then have this many number of serious violations for the second time at the same facility is very concerning," said Jim Prutow, partner with consulting firm PRTM, whose clients include pharmaceutical and medical device companies.
The McNeil unit, which produces over-the-counter pain and cold drugs such as Tylenol, Motrin and Benadryl for adults and children, has recalled millions of those drugs this year over quality concerns.
McNeil temporarily shut a facility in Fort Washington, PA in early May after the FDA issued a scathing inspection of that plant, citing multiple manufacturing violations.
Since the Fort Washington plant produced all of McNeil's non-prescription liquid pediatric pain and cold medicines, its closure resulted in a shortage of those drugs over the summer.
Johnson & Johnson (JNJ, Fortune 500) executives, including CEO William Weldon, have faced two congressional hearings about the recalls.
The company, which is under criminal investigation by the FDA, responded by admitting it had "let the public down" and in July drafted a "comprehensive action plan" aimed at improving its operations companywide.
But in another hit against McNeil, the FDA raises questions in its the latest report about whether Johnson & Johnson's comprehensive action plan is actually working.
McNeil told CNNMoney it has provided a detailed response to the FDA and "will work to address these most recent observations."
"Since the conclusion of the last FDA inspection in January 2010, McNeil has been working diligently to ensure that our manufacturing operations meet the level of quality that consumers and the FDA expect of us, and that we expect of ourselves," said McNeil spokesman Marc Boston.
"While the company has made progress toward that goal, this is an ongoing commitment and we will invest all necessary resources in order to achieve it," he said.
As the setbacks continue for McNeil, some industry watchers are wondering why the FDA's patience hasn't yet run out.
"FDA officials have stated their intent to take a tough enforcement posture. Given the scope of the quality issues at various J&J facilities, it is disconcerting that these quality issues persist and that FDA has not taken further regulatory action," said David Rosen, who worked at the FDA for 14 years.
Rosen now advises major pharmaceutical companies on FDA regulation and compliance.
When asked about the FDA's next steps regarding McNeil, FDA'a Kelly said the agency is "reviewing findings of this inspection, prior inspection and the comprehensive history of communication between the agency and the company in order to make determination about possible enforcement action."
Kelly declined to say what type of penalty is under consideration. "This is still an ongoing investigation, and we are not in position to speculate about the outcome," Kelly said.