As Google rumors swirl, Groupon goes on buying spree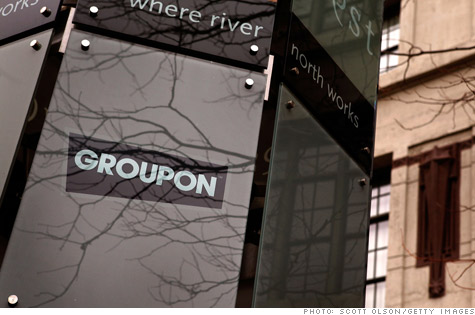 NEW YORK (CNNMoney.com) -- As speculation about Google's ongoing acquisition discussions with Groupon hits a fever pitch, the daily deals site went out and did a string of acquisitions of its own. Groupon said Wednesday it has acquired Ludic Labs, a San Mateo, Calif., startup that runs a self-service advertising and deals platform for local businesses.
Ludic brings with it a small staff -- less than 50 people, according to Groupon's spokeswoman -- who will join Groupon's staff of more than 3,000 people worldwide. Financial terms of the deal were not disclosed.
Ludic's venture capital backers include Accel Partners, which is also a heavy investor in Groupon.
The Ludic deal comes just one day after Groupon snapped up three international daily-deal sites, which it will use to launch Groupon sites in Hong Kong, Singapore, the Philippines and Taiwan. Those sites will roll out in the coming months, Groupon said.
Some of its acquired targets share Groupon's hypergrowth characteristics: Atlaspost, the Taiwanese site Groupon snapped up, launched in August and now has more than 1.2 million users.
Groupon, based in Chicago, also announced Wednesday plans to significantly expand its Silicon Valley presence. A new Palo Alto office will expand from 25 people to more than 100 within the next year, the company said.
Groupon is widely rumored to be in intense negotiations with Google, based in Mountain View, Calif., over a potential buyout. The company acknowledged the media frenzy with a touch of sarcasm in its press release about its Ludic deal, writing: "'Unfortunately we cannot comment on speculation or rumors about our business,' said Andrew Mason, founder and chief executive officer of Groupon, for some reason."
Mason took a similarly mocking tone in fielding questions from the New York Times about the Google rumors. In the quote that launched a thousand tweets, he told the newspaper that he would talk "only if you want to talk about my other passion, building miniature dollhouses."
Mason has not yet responded to Fortune's request for an interview on the subject of dollhouses.