Why employers won't hire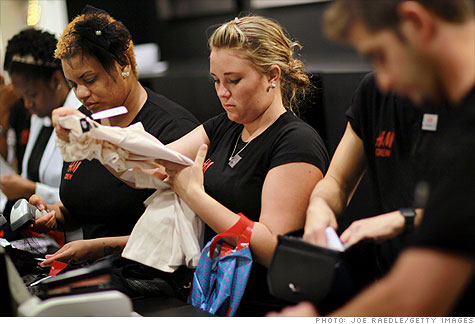 NEW YORK (CNNMoney.com) -- The problem with bringing down the stubbornly high unemployment rate is that employers are learning to do more with less.
Employers still aren't hiring enough. Just look at November's disappointing employment report, which barely eked out a gain in jobs. Or better yet, look at the holiday workers at your local mall. If you can find them.
Retailers, who are reporting a strong start to the holiday shopping season, are apparently doing so with less help than in the past.
The Labor Department reported a drop of 28,000 retail jobs in the month in its employment report once it adjusted the numbers for seasonal factors. Except for 2008, when the economy was in the process of falling off a cliff, there hasn't been such a weak November for retail payrolls in in 29 years.
"There's no question that employers are being cautious about hiring, especially full-time workers," said Sung Won Sohn, economics professor at Cal State University Channel Islands. "They're not certain the recovery is for real so they're taking their time. And because of productivity gain they don't need to hire as many people."
The push to do more with less help isn't limited to stores. It can be seen in offices and factories across numerous industries.
Businesses were forced to figure how to be more productive and change the way they did business, in order to survive during the recession, said Tig Gilliam, president of the North American unit of Adecco, the world's largest job placement firm. And that isn't going away anytime soon, he said.
"It's not just getting people to do more," he said. "I think companies have stopped doing things. They've said 'It was a nice to have those extra 23 reports we used to do every week, but we don't have the people to do them.' That's not going to change."
That's a key reason the job market has remained stuck in the mud. While gross domestic product, the broadest measure of the economy, has recovered 84% of the output that was lost during the recession, but the labor market has recouped only 11% of the jobs that were lost.
"We're producing almost as much as we did before the recession, with 7.5 million less people," said Lakshman Achuthan, managing director of Economic Cycle Research Institute. "The difference is going into the productivity numbers and corporate profits."
The latest reading on productivity, which measures the economic output of each hour Americans work during a quarter, was up 2.5% from a year ago in the third quarter, the Labor Department reported this week. It's the sixth straight quarter of gains of that level or higher.

But that level of productivity can't go on forever, said Achuthan.
"There is a limit. Workers do start to push back," he said. "But business managers don't hire because they're nice guys or girls, they hire because they're scared that they'll lose business to someone else. That'll be what gets hiring done."