Bonds climb on Bernanke blues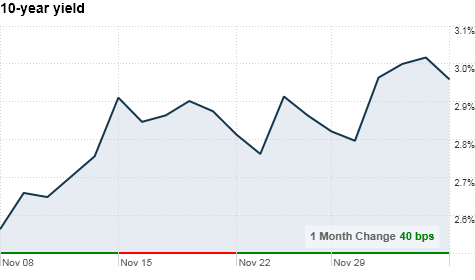 NEW YORK (CNNMoney.com) -- Treasuries started climbing early Monday, as Fed Chairman Ben Bernanke's pessimistic comments about the job market over the weekend boosted the safe-haven appeal of U.S. government debt.
In a rare interview on CBS' 60 Minutes Sunday, the Federal Reserve chairman said it could be four or five years before the economy returns to a normal unemployment rate. Bernanke also said that fears of long-term inflation are overstated, and that the central bank could resort to yet another round of Treasury purchases, or so-called quantitative easing, if necessary.
High unemployment was one reason the Federal Reserve decided to start buying $600 billion in Treasuries in November, as a way to stimulate the economy by keeping interest rates low and encouraging consumers to spend more and businesses to create jobs.
Anticipation for the program had lent support to the bond market up until mid November, when both stock and bond markets became more volatile as investors teetered between fears about Europe's debt crisis and stronger economic reports out of the U.S.
Now, Bernanke's comments that another round of quantitative easing could be in the cards put reservations about the U.S. economic recovery back in the spotlight.
Since U.S. Treasuries are considered a low-risk asset in times of uncertainty, those comments, combined with a weak jobs report on Friday were enough to drive investors back to bonds.
"The bottom line is the Fed could continue on with [quantitative easing], and that would keep rates artificially low," said Kenneth Naehu, managing director and head of fixed income at Bel Air Investment Advisors. "The economy's weakness could continue. Those two factors would bode for rates to stay relatively low."
When traders speculate a large buyer like the government may be coming into the bond market, the anticipation of more demand and less supply drives prices up.
In turn, yields -- which move in the opposite direction -- fall.
On Monday morning, the yield on the benchmark 10-year note fell to 2.96%, backing further away from its four-month high above 3% reached last week. The 30-year yield slid to 4.28%.
The yields on the 2-year note fell to 0.46% and the 5-year note slipped to 1.56%.