U.S. fraud probe: $10 billion in swindling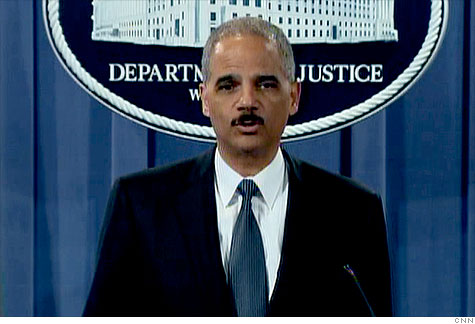 WASHINGTON (CNN) -- More than 300 people have been charged criminally and 189 are facing civil penalties as the result of the first batch of investigations by the Financial Fraud Enforcement Task Force created in 2009, Attorney General Eric Holder said Monday.
Collectively, the cases represent the largest nationwide fraud investigation in the nation's history, said FBI Executive Assistant Director Shawn Henry.
They include Ponzi schemes, foreign currency trading scams and other trickery, and represent more than $10 billion in losses to an estimated 142,947 people, according to a Department of Justice fact sheet on the cases.
"These losses represent hard-earned money and even life savings in some cases," Holder said during a press conference announcing the results.
He said many of the cases involved scammers preying on friends, family, members of their churches and others who trusted them.
He said the scammers frequently used the money they obtained through the schemes to support lavish lifestyles, including the operator of one $880 million Ponzi scheme who bought floor seats for NBA games and made yacht, beach house and luxury car payments with proceeds from the scam.
Since August, when the task force began to bring cases, it has made 64 arrests involving 343 defendants in 231 cases. A total of 158 criminal informations or indictments have been issued, resulting in 104 convictions and 87 sentencings, according to the Justice Department.
The task force has also supervised 60 civil enforcement actions involving 189 defendants, the department said. These include:
-- A Ponzi scheme that prosecutors say was led by Nevin Shapiro of Miami Beach, Florida, the former owner and CEO of Capitol Investments USA. Prosecutors say Shapiro told investors they were buying into his wholesale grocery distribution business, but he was really using the money to pay earlier investors, settle illegal gambling debts and make payments on his yacht and beach house. Some 75 investors lost $89 million in the scheme, prosecutors said.
-- A foreign currency exchange scam allegedly led by Eldon A. Gresham Jr. Prosecutors say Gresham allegedly solicited investors from among elderly Christian church members for his Georgia-based foreign currency trading company, claiming returns of up to 10 percent a month. In fact, prosecutors say, the business was losing money. The case has not yet been tried.
-- Allegedly fraudulent investments in Texas oil and gas projects that raised about $22 million from at least 300 investors around the country. The Securities and Exchange Commission has filed a lawsuit against Jason A. Halek of Southlake, Texas, whose companies allegedly sold the fraudulent investments. The case is pending.
President Obama created the task force in November 2009 to combat financial fraud at the height of the country's economic crisis. It is led by the Justice Department and includes the FBI, the Securities and Exchange Commission, the Secret Service, the U.S. Postal Inspection Service, state attorneys general and numerous other federal agencies.
Holder said the task force will continue its work, including efforts to educate the public about financial literacy through its website, www.stopfraud.gov.