Health care is eating a hole in the Pentagon budget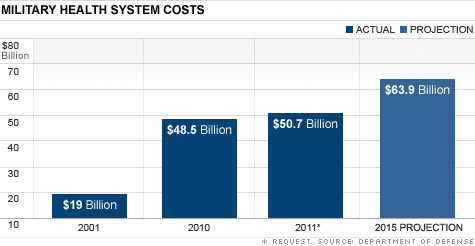 NEW YORK (CNNMoney.com) -- The cost of health care is blowing the top off the Pentagon's budget.
Mirroring the private sector trend, expenses have skyrocketed within the military's health system. The military spent $19 billion on health care in 2001 -- and $49 billion in 2010. The Department of Defense forecasts a continued rise of 5% to 7% a year.
The bottom line: Health care will account for 10% of the Pentagon budget by 2015.
Meanwhile, fees for some of the 9.5 million active and retired service members who participate in the program haven't risen since 1995.
Those eye-popping numbers have set alarm bells ringing, even inside the Pentagon.
"Health care costs are eating the Defense Department alive," Secretary of Defense Robert Gates said in May.
Much of the increase in costs stems from an insurance program called Tricare.
And that's the program -- specifically the benefits for retired service members -- that is drawing the most fire.
President Obama's fiscal commission included Tricare reform on its list of budget-cutting suggestions last week.
And a private sector group led by Pete Domenici and Alice Rivlin offered a similar solution that would increase co-pays and enrollment fees for retired veterans not yet eligible for Medicare from 11% to 27%, and introduce nominal fees for retired veterans who use Tricare as a supplemental insurance plan.
Most Tricare reform plans generate savings by targeting two areas.
The first is shifting the burden of health care costs from the Pentagon to the private sector companies that employ many veterans after they leave the military.
And the second is a modest fee increase on retired Tricare enrollees that would still leave them with far smaller bills than individuals in private sector plans.
The Pentagon said in its most recent budget request that as of 2007, the average out-of-pocket cost for a retired veteran and family of three covered by Tricare was $1,192. Private sector plans were costing families almost $3,300 the same year, according to a Kaiser Foundation survey.
But increasing costs for retired members of the military in a time of war is perhaps the ultimate political third-rail.
Rep. Joe Wilson, a Republican from South Carolina and military veteran who is not enrolled in Tricare, said the proposals should be studied, but that "the first focus should not be on raising premiums."
Wilson will play a key role in the debate over Tricare if military health care reform gains steam. He is set to become chairman of the House subcommittee on military personnel when the new Congress meets in January.
"I don't dismiss it out of hand, but we really need to fulfill our promises to military veterans," Wilson said.
The formidable veterans' lobby on Capitol Hill is likely to make the same argument and fight cost increases. But they won't find an ally across the Potomac.
The Defense Department itself has been far from silent on the issue, and sent budgets to Capitol Hill in recent years that proposed higher co-pays, enrollment fees and deductibles for retired Tricare enrollees.
But those proposals have been shot down by lawmakers.
"In recent years the department has attempted modest increases in premiums and co-pays to help bring costs under control, but has been met with a furious response from the Congress and veterans groups," Gates said. "The proposals routinely die an ignominious death on Capitol Hill."
Modernizing military health systems might result in savings of $6 billion, funds that could be used to pay down federal debt, or be reinvested in a Pentagon budget that might be shrinking if reformers get their way.
The final report from the Obama debt commission proposes close to $200 billion in domestic and defense spending cuts in 2015, a sign that real cuts might be on the way.
In a statement to CNNMoney.com, a Pentagon spokeswoman said the Department of Defense is actively considering ways to create a more efficient military health system.
Re-engineering Tricare contracts, lowering pharmacy costs and implementing more aggressive market-based pricing initiatives are among the options being examined, the spokeswoman said.