Tax cut deal: Why it isn't enough
NEW YORK (CNNMoney.com) -- Taxpayers can breathe a sigh of relief. It's still not a sure thing, but after Monday night's compromise between President Obama and prominent Republicans in Congress, it appears that all the Bush era tax cuts will be extended.
But can that bolster the still stagnant economy? That breath you exhaled? Let's just say you shouldn't hold it.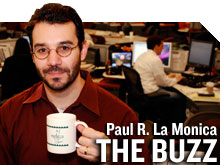 Several economists said extending the tax cuts -- or, to split semantic hairs, not allowing tax rates to go up -- won't do much to help the economy.
Sure, it could provide a short-term boost. Businesses and consumers may be willing to spend just a bit more now that uncertainty about taxes has been lifted somewhat.
But don't count on a major hiring binge.
"The tax cuts are more about preventing a derailing of the recovery as opposed to accelerating it. This does not change my outlook," said Sean Snaith, director of the Institute for Economic Competitiveness at the University of Central Florida in Orlando.
Snaith, a participant in CNNMoney.com's regular survey of leading economists, said that despite Monday's tax cut news, he still expects unemployment to only fall to about 9.4% by the end of 2011. The jobless rate was 9.8% in November. Snaith is also predicting subpar GDP growth: just 2.4% for 2011.
James Angel, associate professor of finance at the McDonough School of Business at Georgetown University, in Washington, D.C., said another problem with the tax cut compromise is that it's not a permanent fix.
"It would be nice to have certainty on taxes for the long-run. You still have a game of tax code roulette in Washington," Angel said. "As long as you don't have stability, people are going to be jittery."
Then there's the big old elephant in the room. Veronique de Rugy, senior research fellow at the Mercatus Center at George Mason University in Arlington, Va., argues that the biggest shortfall of the tax cut compromise is that there was nothing done to address the nation's mammoth budget deficit.
"All the focus on taxes expiring was misplaced. The real economic problem is not taxes. It's spending," she said. "The government is proposing to spend $42 trillion over the next 10 years. Hopefully, politicians can now exclusively focus on dramatically slashing the deficit."
Terry Clower, director of the Center for Economic Development and Research at the University of North Texas in Denton, Tx., agreed. He said lawmakers have to take a hard look at the nation's debt load instead of kicking that can down the road indefinitely.
"The extension won't have a sustainable impact on the economy. This is just putting things off until the next lame duck Congress," he said. "I never want to see taxes go up. But we have to eventually tackle the deficit."
Still, even though many economists think the tax compromise won't cure the nation's fiscal woes, few thought it was a bad idea to extend them.
De Rugy noted there is a positive psychological impact from merely announcing that tax rates won't go up.
"Saying that you are not going to damage the economy any further could help the recovery," she said.
Kurt Karl, chief U.S. economist with Swiss Re in New York, agreed. He said the lower rate should boost consumer spending in the first half of 2011.
Karl, who is also a participant in CNNMoney's economist survey, said he currently expects GDP growth of 2.8% in 2011 and that he might tweak that to a growth rate of 3% as a result of the tax cuts.
Milton Ezrati, senior economist with Lord Abbett, an investment firm in Jersey City, N.J., said he may also raise his outlook. He said his forecast is for 2% GDP growth in 2011 and that it could go up to 2.5%. Ezrati conceded, however, that this growth rate is "pretty damn slow."
Both Karl and Ezrati also said the tax cuts probably won't improve the job outlook. They each indicated they only were likely to change their forecasts for the unemployment rate by marginal amounts.
So let's call a spade a spade. The tax cuts may be merely examples of doing what needs to be done to keep things from getting worse -- much like the controversial bank bailout, various stimulus initiatives from the Bush and Obama administrations and even the Federal Reserve's loathed quantitative easing programs.
"The extension was the right move given how weak the economy has been and how the labor market has really not joined in the recovery," Snaith said. "Allowing the cuts to expire would have been a mistake."
But Angel worries that the near-term benefits of lower taxes may be outweighed by the consequences that could arise from the unwillingness to address the deficit. He argues that companies will continue to look to invest outside of the U.S. as long as they are worried about the nation's long-term fiscal prognosis.
"Yes, the cuts will stimulate the economy in the short-term. But it's like taking a good swig of bourbon. It makes you feel good really fast. What's the hangover going to be like?" he said.
I love bourbon. But I can assure you that too much is not a good thing.
- The opinions expressed in this commentary are solely those of Paul R. La Monica. Other than Time Warner, the parent of CNNMoney.com, and Abbott Laboratories, La Monica does not own positions in any individual stocks.