Laid off twice by 24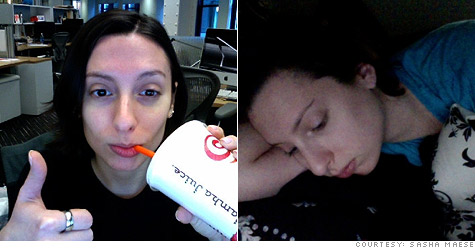 NEW YORK (CNNMoney.com) -- Laid off twice by age 24? Absolutely.
"A surprising number of employees in their early twenties may have already experienced multiple layoffs," said David Morrison, managing director and founder of Twentysomething Inc., a marketing company that focuses on Gen Y.
That's because the job pool for college grads continues to shrink. In November, the unemployment rate for those post-college age (20-24) was almost 16%, compared to 9.8% for the nation. And according to a recent Pew Research Center study, nearly 40% of 18-29 year olds have been unemployed or underemployed since December 2007.
"Youth unemployment is a crisis-level epidemic. Millions of college students can't even get their foot in the door," said Scott Gerber author of "Never Get a Real Job: How to Dump Your Boss, Build a Business, and Not Go Broke."
Sasha Maese has already been laid off twice since graduating in 2008. "It's incredibly frustrating," said the 25-year-old who graduated from New York's School of Visual Arts.
When she graduated in May 2008, she landed a job as a copywriter. But, she said, "I lost that job after three months. Then, I had a full-time job for over a year as a copywriter with an advertising agency and I was laid off from that with no notice. I was 24 when it happened. I was actually escorted from the building."
Since then Maese, who graduated college with $132,000 in debt, has been juggling freelance copy writing jobs to make ends meet. "It's awful because it's like I have to put the whole rest of my life on hold, I can't move, I can't plan for my future because I don't know what my financial situation is going to be."
Michael Whelply, 27, graduated in 2006 and has since been looking for a full-time high school teaching position. "Unfortunately with the downturn, a lot of towns are cutting budgets so there's not a lot of opportunity to get into a school district."
Whelply's longest stint so far was filling in for a teacher out on a six-month maternity leave last year.
"I substitute right now and tutor at a local college, but I haven't been able to get in the door full-time at any institution," Whelply said. "I try to be optimistic but it's pretty bleak."
Without lasting jobs, many recent graduates not only struggle with mounting debt -- and are forced to move back in with their parents -- but also miss out on valuable time when they should be building a career.
"There is a reason to be concerned," noted Brooks Holtom, associate professor at Georgetown University's McDonough School of Business. "One of the challenges that people who graduate in a recession face is lower aggregate lifetime income. They are likely to earn less money over the course of their careers."
Holtom advises his graduate students struggling to stay employed to consider alternative paths and plans. "It may be that they take something that's not at the level they expect but is a learning experience," he said.