'China's Amazon' and 'China's YouTube' IPOs soar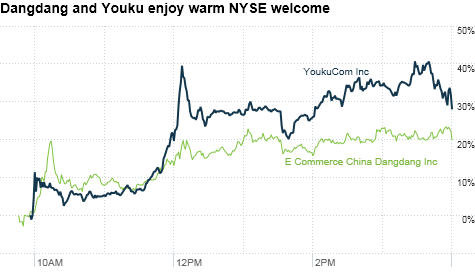 NEW YORK (CNNMoney.com) -- Shares of two Chinese tech companies, Dangdang and Youku, soared Wednesday after making their debut on the U.S. market.
E-Commerce China Dangdang is similar to Amazon.com (AMZN, Fortune 500) in that it's China's largest Internet book retailer. Dangdang (DANG) shares priced at $16 a share and settled 87% higher at $29.91.
In a press release, Dangdang called itself a leading business-to-consumer e-commerce company that offers "more than 590,000 book titles and a range of other media products as well as selected general merchandise categories."
Like Amazon, dangdang.com includes a marketplace program that allows third-party merchants to sell their products alongside Dangdang's.
Youku.com, China's version of Google (GOOG, Fortune 500)-owned YouTube, fared even better. Youku (YOKU) shares more than doubled, pricing at $12.80 and rising 161% to settle at $33.44 in.
Youku calls itself "China's leading Internet television company." According to a press release Wednesday, the company's mission "is to become the primary source of video content for Chinese internet users across all Internet-enabled devices."
According to iResearch, the company said, Youku attracts approximately 203 million monthly unique visitors from homes and offices and 61 million monthly unique visitors from Internet cafes -- which are popular in China. iResearch data also shows Youku has a 40% of the online video market in China, as measured by time spent watching.
The companies' successful initial day comes amid high interest in Chinese tech properties. According to the government-sponsored China Internet Network Information Center, the country had 420 million Internet users in June.
Other Chinese tech companies have performed well this year. Baidu (BIDU), which is China's largest search engine, has skyrocketed 163% year-to-date.