First Chevy Volt: Sold! for $225,000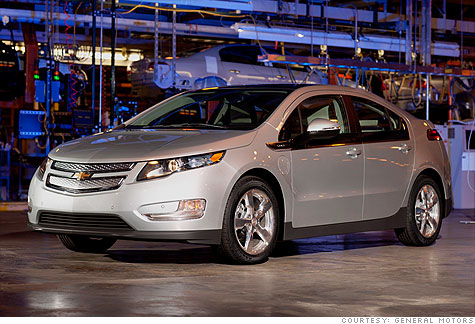 NEW YORK (CNNMoney.com) -- An online auction for the first sellable Chevrolet Volt ended at 6 p.m. on Tuesday with the car going for $225,000.
Proceeds from the auction will go to a foundation that supports science, math, and technology education in Detroit Public Schools.
The sticker price for the car, a Chevrolet Volt with the "Premium Trim Package" of options, including leather seats plus a back-up camera, is about $45,000, GM spokesman Monte Doran said.
The car is painted in Viridian Joule, a silver color with a subtle green tint that adds $995 to the price. The auction also includes the installation of a home charger for the car.
The Volt is eligible for a $7,500 federal tax credit for plug-in cars.
The auction is taking place at the website volt.charitybuzz.com. As of 9:30 a.m. ET, there had been only 12 bidders for the car, but the top bid rose rapidly following an opening bid of $50,000 on Nov. 30. The site requires bidders to pre-register.
Bidders in online auctions frequently wait until minutes before the bidding deadline to bid, said Monte, since there's no advantage to bidding early. It only drives up the price.
"It will be interesting to see what happens between 5:50 and 6:00 tonight," he said.
First unveiled in 2007 as a concept vehicle at the Detroit Auto Show, the Volt entered commercial production last week at a General Motors factory in Detroit. It can drive for about 35 miles, according to EPA estimates, on electricity alone before a gasoline engine comes on to provide power for further driving.