Give like a billionaire - even on your salary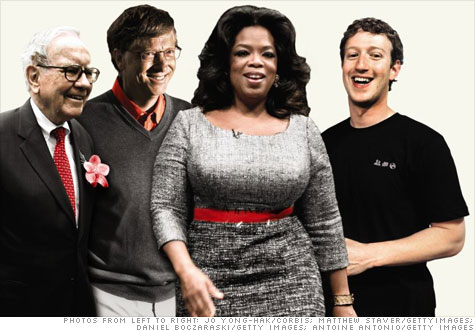 (MONEY Magazine) -- Warren Buffett says he will donate 99% of his wealth.
Bill Gates and his wife, Melinda, have given $14.5 billion to fund vaccines.
Oprah Winfrey has given $40 million to start a school for girls in South Africa.
Mark Zuckerberg pledged $100 million to improve schools in Newark.
You?
Among the über-rich, giving über-big has become über-chic.
In June, Warren Buffett and Bill and Melinda Gates challenged the nation's billionaires to give away at least half their net worth. To date, about 40 have heeded the call, including New York City mayor Michael Bloomberg, eBay founder Pierre Omidyar, and moviemaker George Lucas.
Then, in September, the world's youngest billionaire, 26-year-old Facebook founder Mark Zuckerberg, sat down with fellow billionaire philanthropist Oprah Winfrey to announce that he was pledging $100 million in company stock to the Newark public school system.
Inspiring stuff. Of course, not too many of us can part with half our dough. But if you think and act like a billionaire, you can make a bigger philanthropic impact than you ever thought possible.
And right now charities can really use your help: Donations to the nation's largest nonprofits plunged 11% last year -- the biggest falloff in at least two decades, according to the Chronicle of Philanthropy. So try these seven strategies of the super-rich.
BILLIONAIRES: Concentrate on a few key causes.
YOU: Write bigger checks to fewer charities.
There's nothing wrong with contributing $20 here and $100 there to a bunch of charities. But as billionaires have found, making a bigger impact on a single cause can be more fulfilling.
Think Gates and global health, Oprah and schools for women, George Soros and democracy.
A gift of just $250 to $500 can make a substantial difference at some nonprofits, says Richard Marker, a senior fellow at New York University's Academy for Grant-making and Funder Education. In return, you're likely to get far more access and invites to special events.
Development directors at small charities are often willing to listen to suggestions from large donors, says Eileen Heisman, CEO of the National Philanthropic Trust.
Helping to fund a project can often be more satisfying than giving an arbitrary dollar amount, says Marker, since you'll really be able to see the impact of your donations at work.
You may even be able to cover the full cost of a specific project, such as restocking the library of a senior center or giving new uniforms to an inner-city basketball team.
If you like the idea of fully funding a need but don't have deep pockets, check out DonorsChoose.org, where teachers post requests for materials such as lab equipment or a set of drums for the school band.