The U.S.-South Korea trade pact puts a bullet in DuPont's ballistic fabrics business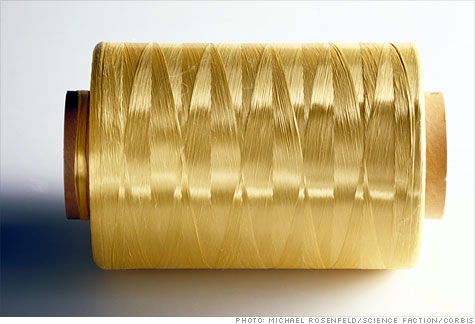 FORTUNE -- America doesn't export many textiles that can't be set on fire or stop a bullet. For that reason, fabrics weren't at the forefront of the discussions surrounding the Korea-U.S. Free Trade Agreement (KORUS-FTA) talks.
But the United States does export the fabric Kevlar, a super-tough flame retardant industrial textile made by DuPont. And the trade agreement as now written puts America at a disadvantage for exporting Kevlar, the one major textile we do export.
Kevlar and fabrics like it are made of the same tough fibers, called aramids. DuPont (DD, Fortune 500) is the main manufacturer of Kevlar worldwide, but South Korea happens to be one of two major competitors in the aramids sector-the other is Japan. As the KORUS-FTA stands, South Korea could gain more share of the market for Kevlar-style materials.
IThe agreement, years in the making, must now be approved by both countries' legislatures. If it gets the O.K., South Korean purchasers will face taxes on foreign goods that will phase out over five years. U.S. purchasers of aramids, in contrast, will face no duties on foreign-made aramids as soon as the agreement is signed. That could prompt U.S. buyers to eschew domestic aramids and purchase Korean-spun fibers instead.
"The potential impact on new investment in the U.S. by DuPont during the next five years is substantial," writes Cass Johnson, the President of the National Council of Textile Organizations. He notes that South Korea has many companies that make aramids, while Dupont is the only aramid manufacturer in the U.S.
Yet the aramid tariffs flew under the radar in trade talks with South Korea. That could be because concerns from the U.S. textile industry were drowned out by several other large U.S. industries that support the new agreement. The meat and automobile industries (specifically Ford (F, Fortune 500)) are both proponents of it, having won concessions in earlier rounds of talks.
The U.S. Meat Export Federation wanted competitive access to the South Korean market, and Ford wanted tariffs on South Korean imports to be phased out over five years, giving it a pricing advantage here at home. Both industries lobbied hard to change the terms of the agreement, and won, since negotiations first started in 2006.
A touchy textile situation
Now, DuPont is facing the same problems as the industries that stalled free trade talks with South Korea three years ago, though the company tells Fortune in a statment that while they support the agreement, DuPont will be "carefully evaluating it against our various trade activities with Korea, and will be paying particular attention to areas where we have business concerns."
The KORUS-FTA is fundamentally different from other agreements that the US has signed in terms of textiles, says Auggie Tantillo, the director of the American Manufacturing Trade Action Coalition. Previous free trade agreements dealt with countries that manufacture clothing like jeans and sweaters, not countries that make industrial fabrics.
While the U.S. doesn't compete with other countries in terms of exporting regular clothing, aramids are the country's main textile export. Yet, the rules surrounding aramids in the KORUS-FTA are buried among rules for other fabrics, and textiles didn't receive the same kind of political clout as other, better-known US industries.
"The executive branch of our government basically said on textiles 'we don't care, you are going to be a loser in this agreement,'" Tantillo says.
Good for business
"If anyone tells you there aren't going to be winners and losers from any increase in competition in the market place, then they're not very perceptive," says Jeffrey Schott, an expert on the KORUS-FTA with the Peterson Institute for International Economics.
The KORUS agreement needs to go through, Schott says. Part of that is because the European Union recently signed a free trade agreement with Korea, which should be implemented in 2011, if all goes according to plan. That puts pressure on the U.S. to do the same.
From Korea's perspective, the European and U.S. markets look similar, says Schott. "Essentially the Europeans leap-frogged us. And if we don't finish our own business, we will suffer significant losses as the benefits of the free trade agreement go to European firms and not U.S. firms." A 2007 report by the U.S. International Trade Commission (USITC) predicted several industries would benefit from the agreement including the pharmaceutical, agricultural, and services industries.
But the agreement won't cause a sweeping change in the U.S. economy overall, says Brad Jenson, an Associate Professor of Economics at Georgetown University's McDonough School of Business. That's partially because of the major discrepancy in the economies. The USITC report says that Korean GDP is less than 10 percent of the US GDP.
Still, the KORUS-FTA is a significant political move. It's happening at a time when the United States wants to strengthen its relationship with South Korea, says Schott. He also believes it's a good investment long terms, since the South Korean market should develop.
"This is good for the US overall, and good for particular sectors," says Jenson. "It seems likely that it's going to happen."
The U.S. Chamber of Commerce agrees. It issued a press release on December 3rd, urging Congress to pass the KORUS-FTA quickly.
DuPont also told Fortune it planned to "work with the Obama Administration and Congress to ensure that the agreement complies with free and fair trade principles."
But at this stage, if DuPont wants to take down the KORUS-FTA, it might have to fight to kill the agreement rather than amend it. That's because the agreement talks started under former President George W. Bush's "fast-track" or Trade Promotion Authority, which was designed to speed trade agreement negotiations. The Trade Promotion Authority stipulates that Congress can either vote up or down on trade agreements, but can not amend them. The authority expired at the end of 2007, but still applies to trade agreements that began before then, such as the KORUS-FTA.
Meanwhile, there's already some bad blood between DuPont and its Kevlar-producing Korean counterparts.
In 2009, DuPont accused a South Korean company named Kolon -- producer of a competing aramid product, Heracron -- of stealing DuPont's intellectual property. DuPont said in an industrial espionage lawsuit that former employee Michael Mitchell took trade secrets and used them at Kolon when he was hired there in 2006. Mitchell was convicted this year and sentenced to 18 months in prison. Kolon, in turn, sued DuPont this past July for violating antitrust laws. The two companies remain embroiled in lawsuits.
If this version of the free trade agreement goes through, "Kolon Industries could absolutely expand its market share in the U.S," says JC Park, an analyst with Mirae Asset Securities Co. who covers Kolon. But other manufacturers in South Korea are starting to make aramids as well, and they might be able to make them cheaper than DuPont, Tantillo says.
Overall, the KORUS-FTA would be a net positive for many American companies. But the agreement does jeopardize the U.S.'s one important textile export. But then, that's the nature of the compromises involved in international trade -- no industry is sacrosanct, no provision is, well, bulletproof.